The Need for Deeper Content Marketing Metrics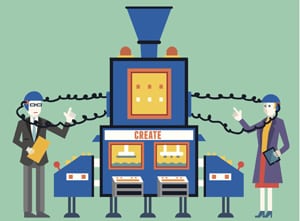 Across the world of marketing, from C-suite offices to client conference calls, there is a longing for deeper content marketing metrics.
Marketers tasked with assessing content marketing ROI and value have their work cut out for them. They are actively seeking solutions that will lead them to the holy grail of data— the metrics that will ultimately appease both decision-makers and clients.
In a recent McKinsey survey, only one-third of CMOs reported they were able to quantitatively prove the effectiveness of their marketing initiatives. In the same report, at least one CEO declared the need for a "marketing technology officer" role. But do we need new roles, or are we really in need of a new approach to content creation that will yield deeper data insights?
Deep analytics—the kind that not only proves ROI but leads to improved content the next time around—come from emergent content technology in which users aren't merely passive consumers, but active participants. Customized, interactive experiences can deliver high-value insights on consumer preferences, behavior and a host of other data. When marketers implement that kind of technology, they can harvest actionable insights decision-makers can use to justify further investment.
The model most content marketers and creatives are currently working with, however, seeks to glean consumer data at the distribution point: the moment at which the content is delivered to the user. That's where personalization is finally injected into the process—targeting ads based on your search history or personally addressing an email with your name—and this is the only point where any valuable information about the individual is gathered. This model limits both the breadth and depth of the data returned by minimizing customization and, therefore, curtailing consumer engagement.
It's not that marketers don't understand the benefit of and need for personalization for proving ROI, or that tech is the way to get there. In the recent Future of Content survey from Rapt Media, 81% of content marketers said that proving increased engagement and personalization was central to opening up budgets to increased investment in content marketing technology. Additionally, 94% of creatives indicated better tech was the key to personalization.
The problem occurs when executives and decision-makers fail to make the leap from content that's personalized at the very beginning of the process to better data collection and analysis at the end. Rather than invest in content tech that creates a personalized, actionable and quantifiable consumer experience, the majority of firms are still investing in content distribution and management. What's more, according to a report by content marketing software provider Contently, some 30% of marketers say they don't have any tool or platform that provides data on their content marketing.
Solutions that deliver increased measurement and optimization by increasing personalization are now available, and we need to seek them out. Doing so means more insights and richer metrics that are useful to marketers for future campaigns, and useful to CMOs for future investment.
Erika Trautman is CEO of Rapt Media.
Related Articles:
Four Steps for Better Content Marketing
Earning An Audience With Great Content Marketing
Aligning Content Marketing and Personas