Ryder System's CMO on Driving Technology's Transformation
Karen Jones is evp and CMO at Ryder System, Inc., an $8.4 billion Fortune 500 commercial fleet management, transportation and supply chain solutions company. In her role, she is responsible for all marketing and new product development efforts across Ryder's business segments that lead to revenue generation and better customer experiences.
Recently, Jones spearheaded the development and launch of three innovative digital products: COOP by Ryder, a first-of-its-kind asset-sharing platform for commercial vehicles; RyderShare, a cloud-based platform that provides load-location visibility, tracking alerts, and collaborative communications across the entire supply chain; and, RyderGyde, a one-of-a-kind mobile application where fleet managers, renters and drivers can manage fleets in real time from their smartphones or tablets.
Chief Marketer spoke with Jones about how technology has changed her industry and provided new growth opportunities, as well as the role of data and the #MeToo movement.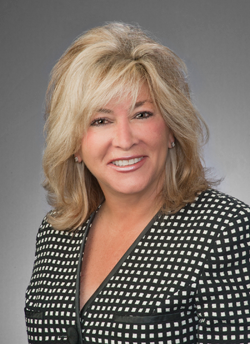 CHIEF MARKETER: How has technology changed your industry?
KAREN JONES: Over the past few years, technology has transformed our industry. Ryder has been leading the way with bespoke applications like RyderGyde to e-commerce websites that sell used vehicles, to new digital products leading the "sharing economy" for trucks.
CM: Is tech where you see growth coming from?
KJ: Innovation in technology overall is really where the growth is coming from—both for us and our customer base. We have been going through somewhat of a technological transformation as a company, with a goal to be more innovative with our products and offerings.
CM: How are you innovating?
KJ: Continuing to be at the forefront of technology that allows for greater visibility and transparency in the logistics and transportation industry, speeding products to market via e-commerce and technology that streamlines last mile delivery experiences for the end consumer, as well as advanced vehicle technology partnerships that will allow us to get ahead of the electrification of transportation, is how we will continue to win for our customers and by default grow our business with theirs.
CM: Are there challenges on the customer end?
KJ: Although there are technologies and platforms for buyer intent—this area continues to be a challenge—really knowing where in the buying cycle a prospective customer is. For B2C companies, you can buy digital audiences more easily because you are mainly basing it off demographics.
CM: How has this technological transformation impacted your marketing strategies?
KJ: With that comes a need for specialized talent in digital and content marketing. That, coupled with the digital experts who can develop that content and keep it fresh with a strategy to be where users are with an experience that moves them closer to Ryder each step of the way, is our biggest challenge—and opportunity.
CM: How has your content-marketing strategy evolved?
KJ: The creation of relevant content that relates to a personal experience will continue to become more critical. Customers and prospects want to engage with brands that can provide value-added content to help them navigate the complexities of their job and industry. This content needs to not only be personally relevant to the end recipient, but it needs to come in short form and digestible mediums.
CM: What role does data play?
KJ: As data positions become more important in marketing, finding and retaining talent is a challenge in this area that historically has not been a core marketing focus.
---
You May Also Enjoy:
Hear from Jones and 19 other CMOs to get their take on the biggest challenges and opportunities facing their brands in 2019. From the promise of AI technology to the imperative of personalization, to the most compelling campaigns of 2018 and the impact of the #MeToo movement—we bring you all the best insights and ideas from our exclusive interviews.
---
CM: What do you see as growth opportunities?
KJ: For us, it is in mobile and digital services. We see tremendous opportunity in the "now economy" with our Last Mile delivery product, a home delivery and white-glove installation solution for big-and-bulky goods covering 95 percent of the U.S. and Canada within a two-day timeframe.
CM: There is a lot of discussion around the #MeToo movement. Has that impacted how you operate or go to market?
KJ: How we market has not changed. We strive to treat everyone with respect in how we conduct business, including our marketing efforts. I'm proud to work for a company that upholds a high standard of promoting a responsible and respectful culture for all races and genders. Ryder continues to drive initiatives that promote flexibility and opportunity for all of our employees. Through our Women's Leadership Forum, which I chair, we empower women in our organization and work with them to further their development within the company. Members of our Women Veterans Task Force, a panel consisting of women in managerial or supervisorial roles at Ryder who are military veterans, also serve as brand ambassadors and positive voices in the veteran community. And last year, Ryder was named among "America's Best Employers for Women" by Forbes magazine in its first-ever ranking.