Non-Gaming Categories Pumping Money into Esports
When brands like Gillette, PUMA, Chipotle, Toyota, Mastercard and State Farm ink partnerships with esports, everybody wants to get in the game.
Nielsen reports that there has been a 13 percent growth in the share of non-gaming related brand sponsorship involvement year-over-year from categories like restaurants, automobiles, financial services insurance, and others. Brands are transitioning traditional budgets to esports as opportunities to reach young audiences in tradtional channels shrink while digital entertainment choices are growing fast.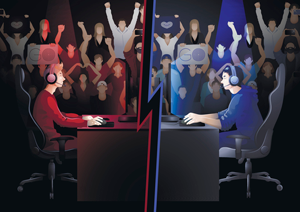 Gillette, for example, signed on as the official partner of the live streaming video portal Twitch, and was on hand earlier this month at the first TwitchCon to be held outside North America. The brand not only hosted the Gillette Gaming Alliance, an international team of 11 well-known Twitch streamers, but also offered visitors the chance for meets and greets. In addition to its booth, which spanned more than 100 square meters, a shaving station was available to GGA members and fans that stopped by. Then, there were rounds of promotions and free samples of Gillette Fusion ProGlide Flexballs.
---
---
To help sponsors and partners navigate the esports ecosystem, Nielsen has released an Esports Playbook for Brands that includes a snapshot of the ecosystem and an informed view on how brands are successfully interacting with various rights holders and fans.
Another brand, Mastercard, became the first global sponsorship partner in 2018 for Riot Games as the exclusive global payment services partner for League of Legends eSports events. Mastercard has activated on a number of fronts including at three global events, in 10 countries with unique promotional programs, "Priceless" surprise giveaways, Worlds Opening Ceremony, pop-up experiences and other promotions.
"While many global brands have to stay true to their core message—for us, that is connecting people to Priceless possibilities—there should be an understanding that you will need to adapt to this audience and their consumption behaviors in order to engage with them in a meaningful way," Emily Neenan, VP, global marketing and sponsorships at Mastercard told Nielsen.
Among other key data points included in the playbook:
● 61 percent of sponsorship value driven by gaming related brand categories (computers, gaming chairs, peripherals, etc.) in 2018
● 39 percent share of voice by non-gaming related sponsors in esports in 2018
● 60 percent of esports fans globally engage with gaming personalities on a weekly basis
● 90 percent of U.S. esports fans on Twitch can name at least one non-gaming related sponsor in esports.
● 70 percent of U.S. esports fans on Twitch spend more time interacting with esports versus traditional sports
● 664+ million total hours viewed of the top 10 streamers on Twitch from March 2018 – February 2019, according to SuperData Arena.
"Esports fans around the world include some of the hardest-to-reach consumers for brands through traditional media—they're young, digital natives who are also cutting cords and blocking ads at rapid rates. Esports allows brands to reach these fans while they're engaging with their number one entertainment passion point: video games," says Nicole Pike, managing director, Nielsen eSports.