KFC Goes for the Unexpected in Consumer Connections
KFC has been busy staging a series of stunts and other promotions in its new offbeat approach to meet up with consumers in unexpected ways.
Mostly recently, KFC launched a Colonel Sanders-inspired cat climber on Facebook Live with Super Deluxe for four hours. That may seem like an awfully long time, but when you understand that people love to watch cat videos, it all makes sense. The scads of cats climbing all over the colonel drew 700,000 views to the brand's latest twist on marketing. The video also notified viewers that they could adopt any of the cats through the Heaven on Earth Society of Animals in Los Angeles—another tug for KFC at cat lovers' heartstrings.
Then there's actor George Hamilton, who reprised the role of the Extra Crispy Colonel for KFC commercials in April. He donned his colonel outfit to make a commencement address at The Art Institute in Portland. He offered wisdom on how the "real" Colonel succeeded and preserved to reach his goal as he aged into his 60s. He spoke about working hard, dreaming big and not being afraid to fail. Social media lit up with the speculation that the colonel himself would address the graduates.
Hamilton, again as the Colonel, also made a guest appearance on the popular soap opera General Hospital earlier this month in celebration of National Fried Chicken Day. Both KFC and the show tweeted out teasers about his appearance that involved the 11 secret herbs and spices.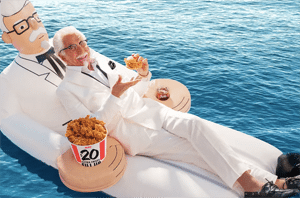 Hamilton has also appeared in TV spots relaxing on a huge pool floatie in the shape of Colonel Sanders with a side pocket designed specifically to hold a bucket of KFC. The much-talked about floatie became the prize for a June sweepstakes that drew 263,000 entries. KFC leveraged a Snapchat World Lens that brought the Colonel to life in an AR experience that also allowed users to enter the sweepstakes directly from the app.
KFC CMO Andrea Zahumensky talked about how the brand used a pool floatie to set itself apart from the mountains of other sweepstakes offers.
CHIEF MARKETER: How do you decide to use a giveaway or sweepstakes?
ANDREA ZAHUMENSKY: We're always trying to find unexpected ways to delight our customers with George Hamilton and how he's living the Extra Crispy lifestyle. In some of our ads George is floating on the Colonel floatie. We thought about how we could create some of these and get them out to our customers. We made a limited amount and launched the sweepstakes to give away hundreds.
CM: How does a sweepstakes come into play during planning meetings?
AZ: The floatie was thought of as part of the Extra Crispy lifestyle and the idea of bringing our colonel to life in a pool float just made sense. Over the past few years, pool floats have gone from functional rafts to these extravagant works of art that are Instagram worthy.
---
More on Sweepstakes:
---
CM: What is the top priority when planning a sweepstakes?
AZ: Do something authentic to your brand. Colonel Sanders as a pool float that holds a bucket of chicken was pretty unexpected. The prize has to be something that is delightful, something consumers want and will be interested in. We don't want to do something just because it's a sweepstakes. It's easy to put out a random sweepstakes and get entries, but to really delight customers you have to find something they're going to want to talk about.
CM: What were some of the functional considerations?
AZ: It was important to make it easy for consumers to participate. We created a World Snapchat Lens that brings the Colonel to life in an AR experience. During the entire experience you could enter the sweepstakes within the app.
CM: How did you market the sweeps?
AZ: We marketed it through the Snapchat lens, on Facebook, Instagram and Twitter. The media was really interested in the pool floatie, bloggers were getting the word out and it's something that people wanted to talk about.
CM: How were the results?
AZ: We were able to target the lens to a particular audience. Customers were really excited. Overall for this sweepstakes, we've had 263,000 entries for the floatie. We feel great about having something that is authentic and we've been really excited about the consumer response.
CM: What about data security?
AZ: As we were getting the sweeps up and running we were delayed by a day because we weren't 100 percent sure that everyone's data was going to be secured. We waited a day to make sure all the data was going to be secured and safe.
CM: How will you use the consumer data you collect to reconnect with entrants?
AZ: Players are opting in to be part of our Colonel's Club so we can share information on what's new or something unexpected that's coming next. We scaled back the amount of information we requested to just the information we needed, so we weren't getting more information than we needed, which is important from a data safety [standpoint].