Integrating a Podcast into Your Marketing Strategy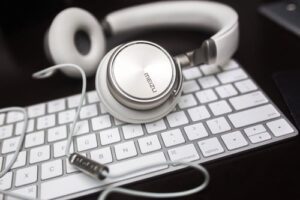 Hosting or appearing on a podcast can have a number of benefits for B2B marketers—nurturing your buyer personas, extending your audience reach, offering content in an audio format, and providing value to your community.
How can you gain subscribers, nurture contacts into becoming listeners (and vice-versa), and collect data on how your podcast is influencing ROI? Here are the tactics to consider to get your show noticed.
BLOG
You wrote a blog post announcing the launch of the podcast that teased out future guests and topics. Now that the podcast live, what more can you say? A lot. You have 15-60 minutes of content per episode that can be repurposed. It's time to recreate the story/interview/content into a condensed version on your blog. You can do this several ways: by rewriting and creating a summary of the entire episode, breaking the meatiest parts out by thought and including them verbatim from the show, paraphrasing parts of the audio and weaving them together with new thoughts post-production, transcribing the entire show verbatim—there are many ways you can turn this audio into written content for your website.
---
You may also enjoy:
---
While planning your strategy for repurposing episodes, keep your buyer persona in mind. If you're not creating value for your buyer personas/leads/customers, you're wasting your time. By recreating a podcast episode on your blog, you allow your visitors to get a sneak peek into the episode before listening, to connect with guests, and to read articles you mention—all while boosting your SEO and exposing your current blog subscribers and visitors to your podcast.
Include these links in your posts:
A call-to-action (CTA) to subscribe/download the podcast on your host platform (Apple Podcasts, Google Play, etc.)
Links to any companies, individuals or articles you reference in the podcast
A CTA to apply to be a guest or submit questions and topics for future episodes via a form hosted on your podcast's site or landing page
Links to your guests' websites and social media accounts
LANDING PAGE
If you are a business starting a podcast, a robust landing page will be a sufficient home for your podcast. This is where you want to show off your podcast brand and detail your value proposition. Why would your buyer persona want to subscribe to your podcast? What information or value are you going to provide them that they can't get somewhere else? Is it exclusive information from your guests? Do you use post-production creativity to make engaging episodes like Aaron Mahnke does on Lore, or Jay Acunzo's Unthinkable? Next, you might want to provide information about specific guests or topics, and link to the blog posts attached to those episodes. Finally, you can embed episodes of your podcast onto the page, allowing your visitors to listen immediately.
So far, we've been nurturing our audience, but we haven't received anything in return. That's about to change. Apple Podcasts may not give you detailed subscriber information the way your CMS does, but you can do lead generation via your podcast landing page.
Features to include for lead generation:
A form to submit questions or topics that the listener would like to hear more about
Contact information or a form to apply to be a guest (if you have guests and are willing to take applications—remember, guests can be future prospects too!)
EMAIL
You sent out your original email announcing the launch of your podcast to your relevant contact lists. Now that you have several places where your podcast lives on your site and elsewhere online, it's time to show them off to your contacts. While this isn't lead generation (you're connecting with existing contacts), you still have the opportunity to gain a new listener.
The most valuable way to work your podcast into your marketing strategy is through existing lead nurtures. Hopefully, you have workflows based around your buyer personas' pain points. If not, it's time to change that. Your podcast should provide solutions to and insights into your buyer personas' problems and be a natural offer to add into your email workflow.
Take this example: Your company sells art supplies. Your buyer persona is Bob, a 45-year-old man who works in the creative industry and is a recreational painter. One of his pain points is not knowing which brush to use and when. You record a podcast episode with a local artist who discusses the effects of each type of brush and what medium to use with each. This would be extremely valuable to Bob. Now you can take your workflow around "Paint Brush Perplexity" that includes links to helpful blogs and offers of premium content (videos, e-books), and add in an email linking out to the podcast episode or corresponding blog. Voilà, you've now helped Bob in his venture of becoming a painter.
SOCIAL MEDIA
This may seem basic, but it's worth noting: Create a hashtag for your podcast (and if you're feeling up for it, its own Twitter handle) and engage with your listeners and guests. Don't miss out on using this opportunity to interact with others.
GUESTS
Not all podcasts have guests, but those that do automatically multiply their audience size. You have both your community and your guests' communities interested in what you're saying. Give your guests the tools to promote their involvement with your podcast. Provide them with promotional graphics and links to the podcast landing page/site and the blog associated with their episode, as well as any hashtags or accounts they can interact with surrounding the podcast. You and your guest are building both of your brands as thought leaders, so share the love.
REVIEWS
Ever wonder why 99 percent of the podcasts you listen to ask for a review? Because the more, higher-ranking reviews you have, the easier you are to find on apps like Apple Podcasts (iTunes). While you can't create this content yourself, it's important to ask your listeners to create it for you. The more good feedback that your podcast gets, the better the visibility, and the easier it will be to gain listeners and subscribers.
Nicki Kamau is the marketing director for SmartBug Media.