Heineken USA CMO on Dos Equis "Most Interesting" College Football Playoff Deal
This is the first in a series of Q&A's with leading marketers about their sports marketing initiatives.
2016 was a big year for Dos Equis. At the start, the brand struck a deal as the first official beer sponsor of the College Football Playoff, the annual postseason event in college football to determine the NCAA Division | National Champion.
It used the partnership as a medium to leverage and position the debut of its new "Most Interesting Man In the World"— Augustin Legrand—to its legions of fans.
Football themed commercials rolled out (where "The Most Interesting Man," extraordinarily, played college football in high school). A sweepstakes offering the chance to win tickets to the National Championship and Snap Chat integrations supported the TV spots. The crescendo of the campaign was the helicopter RV, featured in the commercials, being showcased at the CFP National Championship tailgate in Tampa.
The Heineken-owned beer brand saw record numbers of consumer engagement and a spike in sales. The performance in year one of the multiyear deal surpassed expectations.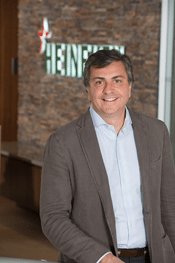 Evan Vladem, a sports marketing and sponsorship expert at rEvolution, sat down with Nuno Teles, CMO of Heineken USA, to discuss the strategy of the deal and its success in year one.
VLADEM: Year one is in the books with your College Football Playoff deal. Why did this deal make sense for Dos Equis?
TELES: If you look at the brand attributes, Dos Equis stands for being more suitable for people that want to live a more interesting life. That's mainly because our consumer is afraid of finding themselves in a bar with nothing to say to their friends. They want to live an interesting life and they want to share that interesting life with their friends.
That led us to the question, 'what can we do to further increase the brand in that social gathering occasion where people get together and want to live an interesting life?' The College Football Playoff is a fantastic platform to do that. It's basically a time you get together with your friends and the perfect way to link the "Most Interesting Man" with the platform. We told a story of him playing college football in high school, which is something only the "Most Interesting Man" can do; it's obviously impossible.
From a business standpoint, it allowed us to upgrade a domestic brand to a premium domestic brand. With Dos Equis activating this platform, it gave the retailers an opportunity to offer a brand that is more premium. With that, it would increase the business and grow sales.
VLADEM: It's an interesting strategy for Dos Equis. Can you expand on those goals?
TELES: We sell to distributors and distributors sell to retailers. Every time we engage with such a great platform—we are talking about 80 million people watching the seven games—we're talking about punching above our weight. The goal was for all of the stakeholders to be engaged with Dos Equis in a crucial period of the year that goes from September to the end of the year. It basically gives a rally cry to all of us for five months to really be behind this great platform. The ultimate goal was to generate more displays at shop floors. The more cases we have displayed, the more sales we're going to have.
VLADEM: Obviously, a number of components are involved from an activation standpoint, including media, creative, social, use of CFP marks on packaging and cans, retail displays, experiential and hospitality. You guys put that to use around nearly every New Year's Six (the lineup for the sextet of bowl games) game. What aspect has been the most valuable to Dos Equis in the partnership?
TELES: It's a combination. It's important to engage with the end consumer. It's important to create awareness through an outstanding video communication (with TV and digital). The theme we had with "The Most Interesting Man in the World" playing college football in high school and tailgating next to his helicopter RV was a very good visualization of how you can make it relevant. That is the first part.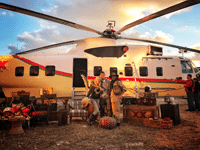 The second big component is having your retailers engaging with the platform. It's having the retailers realize they can sell more by supporting Dos Equis around the College Football Playoff. They really need to be behind that to give us that incremental spike. In order to achieve that, it was critical to work with our original teams; to take advantage of every single game in the regions that those games would be played would be key.
Last but not least, it was to have strong digital engagement. Having consumers engaging digitally with the brand, and basically getting closer. College football is indeed a passion point for our consumer and that will get the brand closer to our consumer.
VLADEM: To culminate the inaugural year of the Dos Equis College Football Playoff deal, you literally dropped the helicopter RV (from the commercials) at a tailgate in Tampa. Can you describe the ideation process behind this?
TELES: We all know the key to college football is tailgating. We asked during the brainstorm, what could we do to make tailgating more interesting? How would "The Most Interesting Man in the World" tailgate? If you think about the most interesting way to tailgate, it's bringing your own helicopter and having a big tailgate party before the game. Sometimes we have good ideas but we don't have a visualization. This was simple to understand and simple to execute even though it's not cheap. You need to bring the helicopter and that's expensive but it's worthwhile.
VLADEM: You relied heavily on sweepstakes around the partnership with the "Gameday Greatness" contest. Looking to drive traffic to retail stores, you offered consumers an opportunity to win a VIP experience at the College Football National Championship. Did this provide the best form of engagement/data collection for the campaign? Why was this aspect such a heavy focus?
TELES: That's related to consumer engagement. As a CMO, I'm a strong believer that it's about changing consumer behavior. If I want consumers to change behavior, I want to engage them in some sort of action. For the "Gameday Greatness" contest, we had north of 1 million entries. That proves consumers were keen to engage with us. If you force people to have an action, you engage more with them and they'll remember that engagement in a more intense way. Those 1 million entries were a record for us.
VLADEM: In the same year that Dos Equis introduced a younger "Most Interesting Man in the World" into commercials, why was the College Football Playoff deal so pivotal for the brand during a refresh?
TELES: The key reason to move to a more active, and an even more interesting man, was to bring the brand more into a social occasion. If you have the "Most Interesting Man" creating a more interesting way to tailgate, it's very congruent and effective to make consumers change their perception regarding Dos Equis and start choosing Dos Equis as an alternative for a domestic, premium brand.
VLADEM: Initially reaching the College Football Playoff deal, and while activating around it, what were some challenges for a beer brand around college athletics? You used the messaging: "Respect the Game, Don't Drink More, Drink Better" in the first quarter of the Fiesta Bowl. Especially around college sports, why was this messaging so important to the brand?
TELES: We have a very strong internal code in terms of marketing to the legal drinking age. We are not marketing to under-21. We did not promote the brand in the colleges. We are activating outside the college, in bars that confirm legal drinking age and in the stadium. Not at the college because we want to respect the code and not promote the brand to consumers under the legal drinking age.
VLADEM: Dos Equis has been doing a lot on the mobile and social integration front, particularly with Snap Chat. Dos Equis used Snap Chat filters themed around college football games throughout the season. Why Snap Chat? Will the use of Snap Chat continue growing for your brands?
TELES: I was visiting a bar while in Tampa and a consumer next to me ordered a Dos Equis. She then took a picture of herself with a Dos Equis Snap Chat filter. I was surprised what the consumer—right next to me—was doing. It was by accident. That's just simple proof as to why I am a strong believer in mobile first. It was a big coincidence with a consumer using our own advertising in front of you.
That's why I mentioned the importance and congruency of all touch points. You have to be on TV, you have to be in the bar, you have to be well displayed with branded glasswear. When you achieve that, it's an advantage for us.
VLADEM: I know it's early, but you already saw that massive 1 million entries. How do you think Year One around the College Football Playoffs performed?
TELES: Above our expectations. We grew above year-to-date market share. That's a good indication. We saw increased sales and we saw all of the stakeholders embracing the platforms. A big Key Performance Indicator is the amount of retail displays because that shows interest. We saw close to 8,000 displays, which is above the average for the year. All of those indicators give us confidence that we can do much better next year and this is something that we want to have for the long-term.
VLADEM: You're already looking ahead at next year. What would you do differently?
TELES: We are still celebrating, which is quite unique. We are planning 2017-18, but we need to look more into the learnings. I don't see big changes aside from going deeper to get all of the stakeholders operating even better. I'm a strong believer that you shouldn't go up-down-left-right, but you cannot just repeat. You need to find a good balance. You have to keep consistency but have some novelties. That's how we do things here.
One thing that I would like to do even more is the activation we did with ESPN during a TV commercial where they cut directly into the game from the creative in a commercial. That was a highlight from a communication standpoint.
I would like to do social and mobile integration more and have more displays. Those are the three things we are going to boost next year.
Editor's Note: Got a killer sponsorship campaign like this one from Dos Equis? Enter it in the 2017 PRO Awards by March 17.
Related articles:
Heineken "Cities" Campaign Lights Up SF Bay Bridge
Heineken Helps Restore Abandoned Miami Marine Stadium
Live From PROMONext: Heineken is the Beer of Cities