Heineken "Cities" Campaign Lights Up SF Bay Bridge
Heineken has added another notch in it "Cities" campaign, which partners with big cities across the U.S. for special events that enhance the cityscape.
An installation of lights on San Francisco's Bay Bridge that went dark earlier this year, will again light up through a partnership with Illuminate, a non-profit that builds transformational works in the arts space in different cities. Heineken is helping to fund the project along with private patrons and other partners.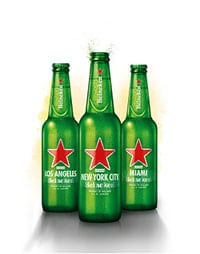 "This is about making great cities even greater," says Raul Esquer, brand manager, Heineken USA. "It's a way for us to give back to these communities. We're trying to raise awareness about what's going on in these cities by taking action to enhance the cityscape."
The installation, by artist Leo Villareal, features thousands of ever-shifting LED lights, which will be permanently re-lit during a Jan. 30 celebration. The Bay Bridge links San Francisco and Oakland and is one of the most iconic bridges in the world. An event will take place at the bridge that evening with Heineken and other sponsors.
Heineken is also running a promotional "Shine it Forward" giveaway of 250 lights on the bridge. Some of the lights will be awarded through a social media-driven scavenger hunt in San Francisco in early January. Specially marked Heineken bottles will be planted around the city with clues and hints discovered by following Heineken's social channels, including Twitter @Heineken_US. Some of the lights will also be given away through a P-O-S text-to-win promotion.
"Part of goal is to get people to become a key part of these urban projects," Esquer says. "For this one, we want people to participate and engage."
Winners will receive an official certificate that illustrates which light on the installation they now own. Heineken is also creating two TV commercials to support the project. Watch the spot:

Heineken launched its first installment of the "Cities" campaign, a "Subway Symphony"earlier this year in New York.
The brand has been helping musician James Murphy introduce New Yorkers and all its visitors to his vision for a more melodic, inviting and beautiful New York City. "Subway Symphony" is an immersive new musical technology that turns the sound of subway turnstiles from beeping electronics into shimmering pieces of music.
Last month, through a collaboration with another urban-improvement project, Subway Symphony turnstiles were installed for the public to experience at The Lowline Lab. The Lowline is a proposal to create the world's first underground park through the use of innovative solar technology. The Lab is an aboveground research hub that simulates how an underground green space would come to life. The Lab is free and open to the public on Saturdays and Sundays through spring 2016.
"Like Subway Symphony, The Lowline project is an idea that demonstrates how New Yorkers are always excited to innovate, improve the city and find new ways to make life a little bit better for everyone," Ralph Rijks, vice president of marketing at Heineken USA, says. "Our Cities campaign aims to make great cities even greater, and we're excited to give visitors a chance to try out the Subway Symphony project in this stunning environment."
To show support for Subway Symphony, Heineken is encouraging fans to tweet "I support #SubwaySymphony," or, follow it at Facebook.com/Heineken, @Heineken_US, and at SubwaySymphony.com to stay updated on the program.
"It's exciting to see how people react to these projects," Esquer says. "We try to give some unexpected magic to everyday life and inspire them to make these cities even greater."
Related articles:
3 Reasons Experiential Brand Homes Drive ROI