Google Exec on 4 Best Practices for Content Marketing
There are 1.8 trillion paid ads that have not been seen because consumers are constantly distracted, Seth Barron, head of creative business partnerships at Google|YouTube ZOO, said yesterday. He offered four best practices for content marketing that define great marketing in this day of digital distractions.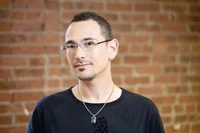 1. Great Stories The structure of stories has to be interesting to users starting with a conflict, reaching a crisis and then ending with some kind of resolution that offers emotional relief, he said.
"Stories drive emotional connections," Barron said at The Content Council Spring Conference. "Ads are just well told stories that drive action. It's a beautiful piece of content with a great media plan around it."
As an example, Barron played this Nike video from the 2012 Olympics:

"Nike is unafraid of the emotion and they don't tell stories about their product," he said.
2. Put Users First Start by asking the question: Who's story is this? Great brands put the user as the protagonist of the story.
"Under Armour had a fascinating business challenge; they were the underdog, an upstart brand going against Adidas and Nike. So how did they cut through all that clutter in the sports market.
Watch this example from Under Armour:
"Gisele doesn't talk. She's not looking pretty and perfect and we can see ourselves here," Barron said. "They understand we're the protagonist in this story."
Another example is the #truleyourself campaign.
"It's visually stunning. Art directed tremendously well," Barron said. "If you've every trained for anything you know that you are the sum of all of your training. This is a really powerful message. Under Armour is reminding us of ourselves, and that's what makes a great marketer. They have these beautiful brand communications and then they deliver on the product (the Under Armour Health Box connected fitness system) that lives up to the brand promise."
"Under Armour is now growing way faster than the category and they are getting converts from Nike and Adidas because they can tell the big story and deliver on the product," he added.
3. Be Relevant Create fun and lighthearted pieces, in a contextual and relevant way so consumers don't reject the ad.
"It's not a distraction, it's contextually relevant," Barron said. "Thinking about ways to be relevant to users that are value added."
4. Fall in Love Brands that fall in love and nurture a love affair with their users these are the brands that sustain in a distinguishing way. Subaru played off its insight that there is a high correlation of Subaru owners and dogs to tug on our heart strings.

The ad "makes you feel something about Subaru, and even if you wouldn't buy a Subaru that's a brand that loves their users—they get how people use their cars," he said. "I do think we have it wrong in the business, we want users to love our brand but we don't ask how we're loving them back. This should be an exchange that goes both ways.
What can marketers do tomorrow?
"Embrace the fact that content is liquid and stop planning it by platform but by user," Barron said. "It doesn't matter what screen the content is on, the more you think about your strategy as who is this user and how can I put them first" the more successful you will be. "Love your users. If you do, you will help them. You won't get in their way."