Five Ways to Win Customer Loyalty
To engender loyalty and create meaningful connections, brands must put their customers first and understand their needs. Businesses need to leverage customer data—including transactions, online traffic, social media data and lifestyle details—to learn more about their buyers' interests and purchase behavior. Digging deep into these specific areas allows brands to not only offer the best deals, programs, and targeted emails to customers, but also make shoppers feel valued and appreciated.
How do brands achieve this? Here are five key ways to keep loyalty programs fresh and win over customers: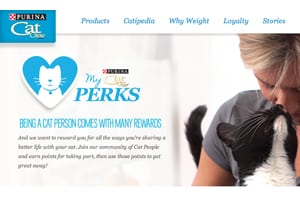 1. Establish a clear value proposition. Loyalty is about catering to the needs of customers. To gauge interest, it's imperative that marketers clearly define the value proposition of the program that balances both customer and business needs, and incentivizes brand loyalty. Marketers must illustrate quickly why customers should engage in their loyalty programs and what they will take away for their participation.
Nestlé Purina, for example, rewards customers for the ways in which they share a better life with their cats. The brand lets members earn points for Purina swag for reading articles about pet health, retweeting content, and building out their profiles. In doing so, Purina is able to learn more about their customers, while also becoming a useful part of their customers' lives, connected to something they care about, in this case their pet. Conveying this value to customers is far more effective than blindly sending out discounts and deals.
2. Engage customers. To command interest from customers, it's important to keep them engaged. Inducing loyalty requires brands to motivate people to embrace them, and interact with a brand beyond transactions. Marketers must incentive give customers a reason to take an action, and recognize them for it. Why? Loyalty must be earned, and customers typically expect some reciprocity in the form of points, discounts, or free products as a goodwill gesture from the brand.
For example, a restaurant brand may consider offering an incentive to people who share a picture of their family enjoying a meal at one of its restaurants on social media. In today's era of social media, sharing photos and experiences is something many customers do anyway. Therefore, encouraging and incentivizing such behavior is often all a customer needs to engage—and the end result is a genuine experience.
3. Be relevant: To win loyalty, it's essential that brands provide meaningful content and be relevant to their customers. Relevant and personalized messages not only build trust with customers, but they keep brands top of mind when members are ready to shop.
Brands should comb through their customer data and find those nuggets of information, such as frequent purchases of a specific product, or activity on social media, and interact with customers using that information. For example, a retailer can monitor what items shoppers buy most and send a discount offer off those things, make product recommendations based on past purchases, or even reach out to their customers on special occasions.
4. Offer unique/VIP rewards: It may sound simple, but what loyalty program participants value most from brands is feeling special. While spend-and-get remains the foundation of many traditional loyalty programs, marketers should broaden their reward offerings to include unique experiences, VIP access to new products, or surprise and delight features. After all, the best perks don't always come in the form of discounts.
Companies may also consider working with complementary, outside partners to offer additional value to customers and extend the reach of their brand. Customers, in turn, will build more affinity for brands if they receive greater value from them.
5. Solicit customer feedback: It's one thing to run a loyalty program based on company goals and needs. But marketers can take their loyalty programs a step further by building initiatives that use customer insight and blend in members' opinions. Obtaining customer feedback and using those ideas will persuade members to remain active in a loyalty program.
Companies should incentivize consumers to answer surveys or questionnaires to help ensure that they are offering the best programs that meet members' needs.ustomers can act as a sounding board for what's to come and have a stake in potential changes down the road. This strategy demonstrates that marketers clearly value members and their relationships.
Today's consumers want personalized interactions with brands. People want to be recognized as unique individuals, and they want to be involved with their favorite brands. If businesses respond to those requests, they will start to change the conversation, motivate people to engage, change customer behavior, and start a journey down the path of true loyalty.
Geoff Smith is the senior vice president of marketing at CrowdTwist.