DoubleTree, Google Design Custom-built YouTube Channel for Travelers
In a partnership with Google, DoubleTree by Hilton has launched a custom-built YouTube channel—DTour—that offers travelers a new way to plan and share their trips.
Supporting the channel is a yearlong "DTour of a Lifetime" competition offering six people the chance to be brand ambassadors traveling the world and documenting their adventures on the channel.
John Greenleaf, global head of the DoubleTree by Hilton brand, talks Google, technology, budget and more.
CHIEF MARKETER: What is the goal of your partnership with Google?
GREENLEAF: The marketing partnership is with Google and Hilton Worldwide to work with Google to uncover opportunities that will benefit our brands. The first to develop a program is Doubletree with DTour. We think it leverages the strength of Google and the travel distribution of Hilton Worldwide.
CM: How did the idea for a custom-built YouTube channel come up?
GREENLEAF: The idea was generated in conjunction with Google who has participated in our strategic planning for a year. This is what came out of that—social, combined with experiences people have with travel.
CM: How does the site work?
GREENLEAF: It aggregates comments and feedback on travel based on location. We view it almost as a noncommercial approach to consolidate people's feedback. People comment on any travel experience, they can drag in any video or pictorial content to DTour from their social sites and then share that with the larger public about what they did in that market.
CM: This is a new technology developed specifically for this program. Can you explain?
GREENLEAF: It was developed by a software company, This Moment, which Google engaged for us to be able to pull social content into DTour.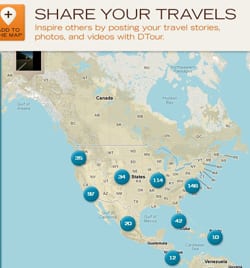 CM: How does all this tie to booking room nights at your hotels?
GREENLEAF: All of our hotels are posted on the map at the site, but it's more about the locations you've traveled to and the experiences people have had there. Customers talk about the value and excitement of travel within the context of the network of hotels we have around the world. It's a really personal way to describe it and a way to personalize the product and travel experience within the context of the DoubleTree hotel brand. The feedback from travelers and locations ties in beautifully to our hotels.
CM: What kind of a response have you gotten since the launch on May 6?
GREENLEAF: Within two weeks we have gotten more than 1 million views.
CM: What are your marketing plans for DTour?
GREENLEAF: All of the marketing is for the U.S. and UK and was developed online. In place now are media buys on YouTube, Lonely Planet and BBC.com with video ads that run across food, lifestyle, travel and business categories. We're also running traveler interview videos with the BBC.com and full-page takeovers and wallpaper in North America on Lonely Planet.
CM: Why those particular sites?
GREENLEAF: Those are sites that are very much aligned with the traveler who is going to use social media more.
CM: What role do DoubleTree hotel team members play on the site?
GREENLEAF: Through a section called "DTour Guides," team members across the globe can share their travel advice and must-see hotspots from a local perspective.
CM: Have you shifted budget dollars to online?
GREENLEAF: DoubleTree brand spends about half of our marketing dollars online, including mobile. That's a significant shift and we do it very effectively with a lot of testing, a lot of different executions and to drive awareness.
CM: How does mobile fit in?
GREENLEAF: We're working with Google to develop mobile programs. That's clearly the fastest growing channel for travel and we're anxious to get out ahead of that. We just launched the Hilton Honors app last week and have seen the most downloads so far over last week.
CM: How does this program compare to your overall marketing program?
GREENLEAF: We have tried to stay on the leading edge of technology as far as how we compare to other hotel marketers. We continue to push hard to stay in front in that part of the marketing arena.
CM: How do you do that?
GREENLEAF: We test offers to encourage consumers to book business on DoubleTree.com. We buy lots of banners that feature an interactive promotion or rate with click through to DTour.com. We book through our app and are very active in email campaigns targeted to Hilton HHonors members. We are very aggressive in exploring new and better ways to generate business and the partnership with Google is just one of the ways we're pushing that forward this year.