How to Break Free From 'Same Here' Branding Strategies
One-of-a-kind brands appeal to customers, and brands become one of a kind by differentiating themselves from the competitive clutter. Unfortunately, many companies seem to think the road to differentiation is paved with gimmicky ideas. Take Johnnie Walker, which recently created a feminized spinoff of its nearly 200-year-old logo, christened it "Jane Walker," and dubbed the move "another symbol of the brand's commitment to progress."
But is it really progress? Or is it another one-off attempt to draw in women with gendered packaging? Jane Walker is essentially the scotch version of "Lady Doritos," a product idea that generated fierce pushback and sent PepsiCo into damage control mode. How much is Jane Walker really doing for women's rights? Probably not much.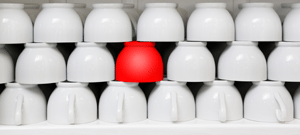 Brands don't need gimmicks to stand out—they need better strategy. Despite this, many continue to lean on copycat tactics instead of solid strategic planning. Yet thoughtful brand and marketing strategies benefit companies and consumers alike: Organizations benefit from market differentiation through the improved financial performance that results from it, while consumers enjoy clearer reasons to choose one product over others in an otherwise sea of sameness.
Achieving differentiation isn't easy, though. Brands that successfully differentiate themselves combine intelligent strategy with solid marketing execution, and in doing so, they become indispensable to consumers.
How Brands Play Copycat
Seemingly overnight, concepts like e-commerce, SEO, social media, mobile marketing and pay-per-click (PPC) advertising have augmented traditional marketing strategies and tactics. In their scramble to keep up, brand marketers are desperately trying to stay up-to-date on the latest digital trends. In an effort to not be left behind as irrelevant—and without fully understanding these strategies and tactics—marketers are copying one another and following a set of "best practices" to the point where brands are rapidly becoming indistinguishable from one another.
This backward evolution in branding isn't surprising for another reason—ease of measurement. Long-term equity and brand-building are difficult to quantify, but PPC, SEO, social media metrics and other digital activities are inherently easier to measure and track. Ironically, marketers need strategy more than ever to guide their use of these new digital tools, but most have abandoned that higher-level thinking because of their fear of missing out. And even when digital tactics are strategic from a marketing perspective, it is not always consistent with the brand strategy it's supposed to support.
Consider Spotify's latest misguided move. Once known solely for music streaming, Spotify is now adding videos, podcasts and other components to its catalog, essentially moving the company into the same nebulous category as YouTube and other multimedia competitors. Is this move consistent with what consumers are seeking from Spotify and with the overall brand positioning, or is it just something it's doing because everyone else is? Ironically, a move designed to diversify Spotify's offering may be the very thing that makes it indistinguishable from its competitors.
Components of Differentiated Branding
Brand monotony might be increasingly common, but it's not inevitable. By focusing on six key components of successful branding, companies can identify what makes their brands unique and develop strategies to escape the sameness.