First Female Iteration of Johnnie Walker Debuts
In a bid to attract more women, Johnnie Walker Black Label has unveiled Jane Walker, the first female iteration of the iconic scotch whiskey.
The new packaging shows a smart looking woman wearing a black top hat, coat and high boots striding across the label, a look almost identical to the Striding Man, who for more than a century has been a Johnnie Walker icon and an important part of the brand's history.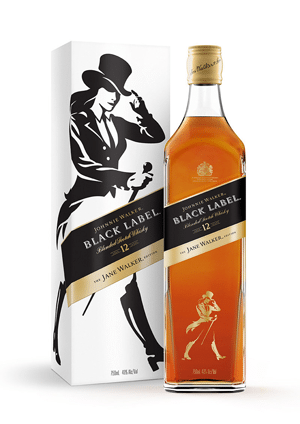 Jane Walker debuts next month as a special-edition offering to coincide with Women's History Month and International Women's Day celebrations. Each bottle purchased sparks a $1 donation to women's organizations.
The brand, owned by Diageo, says that women have played a significant role in the brand's history dating back to 1893, when John Walker & Sons purchased the Cardhu distillery from Elizabeth Cumming. Cardhu is one of the single malts that comprises Johnnie Walker Black Label and is considered the heartbeat of the blend. Elizabeth Walker, the wife of founder John Walker, was also fundamental to the creation of their own blended whisky, working alongside John and their son Alexander in the original Walker grocery shop. Today, nearly 50 percent of the brand's 12 expert blenders are women, with female leadership across marketing and C-level executives.
"Important conversations about gender continue to be at the forefront of culture and we strongly believe there is no better time than now to introduce our Jane Walker icon and contribute to pioneering organizations that share our mission," says Stephanie Jacoby, vice president of Johnnie Walker.
As part of Keep Walking America, Johnnie Walker will donate up to $250,000, including a donation of $150,000 to the Elizabeth Cady Stanton, Susan B. Anthony Statue Fund and its Monumental Women campaign and She Should Run.
Related articles: