Brands Put their Best Foot Forward for International Women's Day
Each year on March 8, people around the world recognize International Women's Day, a celebration of the social, economic, cultural and political achievements of women from all walks of life. The day also serves as a call to action to advance gender equality, as evidenced by this year's theme: #BalanceforBetter. For brands, the occasion is an opportunity to showcase what they stand for and to connect with female consumers on a deeper level—but only when executed with the proper intentions (did you see that esports dress!?).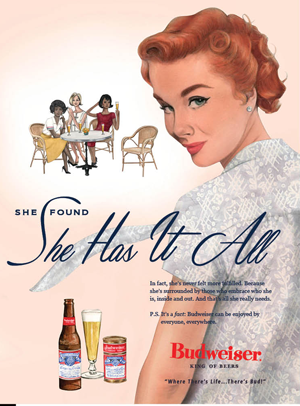 Brands like The Body Shop are executing a full weekend of events in London. Women's footwear brand Ked's is literally redefining "lady" with a spirited campaign that highlights inclusivity just in time for International Women's Day. Air India is deploying 12 all-women crew flights on its medium and long-haul international routes in celebration of the occasion, along with more than 40 domestic and short-haul return flights.
Also in the mix are ADP and WIRED who are putting an experiential spin on "breaking the glass ceiling," at SXSW from March 8-10. The adidas Runners L.A. community is also marking Women's Day with an inclusive, day-of public event for men and women that includes a two-mile "Run of Togetherness," art, workshops and a community hangout featuring food and drinks at Grand Central Market in downtown Los Angeles. (Get all the details on these campaigns).
Here's a look at what some other brands are also doing to celebrate International Women's Day,
• Brawny has launched the fourth year of its celebratory campaign #StrengthHasNoGender. The campaign highlights strong and resilient women past and present who have overcome adversity and broken barriers. The campaign includes special packaging designs, an anthem film and a multi-year partnership with the nonprofit organization, Girls Inc. that includes a $75,000 donation in support of its programming.
• The Women's Alzheimer's Movement, the Alzheimer's Association and Maria Shriver delivered a disruptive conversation on the SXSW stage combined with a new PSA and a newly developed Facebook camera effect.
• Budweiser announced its membership with #SeeHer, the movement to improve the positive portrayal of women in advertising. To support its membership, the brand reimagined three of the its ads from the 1950s and 1960s. The ads are featured on Budweiser's social channels and appear in today's issues of The New York Times, Chicago Tribune and The LA Times.
• The Dick's Sporting Goods Foundation is funding all girls Sports Matter projects currently listed on DonorsChoose.org.
• Celebrity Cruises is Ringing the Bell on the 7 Seas to celebrate and support the equality, advancement, and accomplishments of women and the men who support their efforts. The ceremony takes place on the entire Celebrity fleet of ships across the world, as well as in the company's offices worldwide.Guests, crew and employees will take part in the celebrations, all wearing red to show their unity and support for women's accomplishments everywhere.