Want a Cheetos Meatball? You Better Hurry!
Pop-Tarts did it. Mike's Hard Lemonade did it as did many others. Now Cheetos is doing it.
The brand is opening The Spotted Cheetah, what it is calling a fine-dining, pop-up restaurant in New York City. I'm as big a Cheetos fan as the next gal, but fine-dining and Cheetos in the same sentence? Must be a marketing ploy.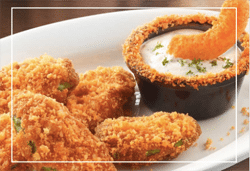 However, the menu—left up to celebrity chef Anne Burrell—looks enticing. Burrell is serving up such cheesy culinary creations as Cheetos Crusted Fried Pickles, Flamin' Hot and White Cheddar Mac n' Cheetos and—right up my alley—Purrfectly Fried Green Tomatoes.
For those with a sweet tooth, there's Cheetos Sweetos Crusted Cheesecake and Cheetos Sweetos Sweet and Salty Cookies. The work is from Omnicom Group's consumer engagement shop The Marketing Arm and PR firm Ketchum.
Cheetos, a Frito-Lay brand, is not shy to stage strange consumer experiences that might confound—or delight—your average human.  Last year, it was the Cheetos Museum, which awarded the brand and Goodby Silverstein & Partners  five Lions at Cannes this summer.
Be prepared to spend between $8 and $22 on the delights and if you're interested, you better hurry. This is a limited time offer from Tuesday, Aug. 15 through Thursday, Aug. 17 only. The Spotted Cheetah reservations site opened today and is filling up fast. If I can get a seat, I'm all in for the Cheetos Grilled Cheese + Tomato Soup!