Content Marketing World: Don't Be Boring and Listen to Mom
Here's a round-up of notable quotes and ideas from Content Marketing World 2015 in Cleveland this week.
Don't Be Boring, Be Intimate
Marriott International's VP of global creative + content marketing David Beebe joked during his keynote that the brand has an intimate relationship with their customers – "they sleep with us after all."
Content is serious business for Marriott, which launched a content studio  to create compelling videos and other content to connect with a variety of demographics, millennials in particular. The main mandate he got from the c-suite when it debuted? Don't be boring.
"Brands must stop talking about themselves," he said during a keynote. "We'll tune them out because it adds no value to us [as consumers]."
Moms Always Know
Author Jay Baer advised Content Marketing World attendees to use the "Mom Test" to see if something is a good idea.
"If your mom—who loves you unconditionally—doesn't love something, no one will," he said during a keynote. "Pause, and think to yourself, does this pass the mom test?"
Moms always have a great sixth sense of what works and what doesn't for their children, Baer said. "Dogs can smell fear, but moms can sense passion."
To Live and Let Die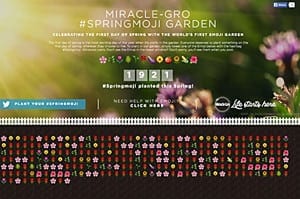 The content strategy for Scotts Miracle-Gro has roots in two distinctly different areas.
For the products promoting plant growth, the message must be inspirational and engaging, and is designed to create a sense of outdoor enjoyment, notes Chris Hanaway, content marketing lead. Pinterest has become a huge part of the strategy, and the brand has worked on improving its imagery to connect in this channel. A #Springmoji contest engaged users socially, encouraging them to tweet using emojis with spring images like flowers and raindrops.
The tone on the "control" side is much different. These products are designed to kill pests, weeds and whatnot, meaning the messages is a tad less inspirational, he said.
The brand is working to map out personas and see where they have content gaps, to better evaluate engagement, said Larissa Livingston, digital marketing manager, search.
Spinning the Color Wheel
Creating projects to inspire DIY-ers and crafters helps Rustoleum engage in social channels. Of course, figuring out what really resonates and why isn't always so simple.
For example, one project showing how to paint a sunburst on a table got a lot of attention. But the project could be done in any color, so it was hard to track the results back to paint colors to gauge if it really spurred sales, said Lisa Bialecki, senior director, integrated communications, Rust-Oleum.
Some projects don't resonate because they might be too difficult for the average homeowner to try, or maybe they're not on trend or skew too old, she said.
Some projects don't even originate with the brand. For example, when gold spray paint sales suddenly skyrocketed, Rustoleum discovered that someone had started spray painting rocks gold and taking pictures of them and sharing in social.
The next step, of course, is to always inspire people to begin their next project. Using the data gathered in one campaign can jumpstart ideas for the next initiative, said Ryan Derrow, VP, online media, digital strategy, Empower MediaMarketing.
Think Before You Post
The updated FTC social media rules require brands that work with spokesperson or celebrities to disclose that relationship clearly and conspicuously, noted Ruth Carter, author, "The Legal Side of Blogging" and owner/attorney, Carter Law Firm.
The penalty for not doing so? A whopping $11,000 per violation—and the FTC and go after the company or the spokesperson.
"It looks bad when someone calls you out, so just say so upfront," she said, during a panel on legal and FTC issues related to content marketing
A great rule of thumb overall for posting in social is to consider that anything you post can be seen by four people: Your mom, your boss, your best friend and your worst enemy. "If the post is something you wouldn't want any of those people to see, don't post it," she said.