Back-to-School: Marketers Share the Lessons They Wish They'd Learned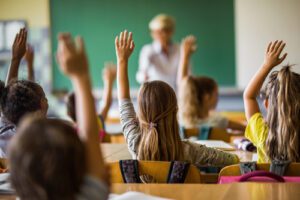 The end of August is back-to-school time—and that means big business for many marketers. The National Retail Federation (NRF) predicts back-to-school spending will hit an all-time high of $80.7 billion this year.
Families with kids in elementary through high school are planning to spend an average of $696.70, says the NRF. And families with college students will feel the pinch even more, shelling out an average of $976.78.
Clothing and accessories are topping K-12 families' expenses, with an average spend of $239.82, followed by electronics ($203.44). College-bound students are spending more on electronics ($234.69), and only spending $148.54 on average for back-to-school clothes.
But not all the best lessons are taught in the classroom. We asked several marketing pros to share what was the most important thing they wished they had learned in school—but didn't. Here's what they said.
Mara Downing, vp, global brand management and corporate communications, John Deere: My life lesson would be don't focus on the things you can't control because you will end up wasting a lot of time and energy.  Rather, focus on the things you can control and knock it out of the park—whether it be on projects, relationships, or your personal passion.
---
You May Also Enjoy:
---
John Harmeling, CMO, Grant Thornton: That adults are every bit as immature as children!
Katie Martell, marketing consultant:  I was lucky to fall into marketing at startups after college but it was never the path I envisioned. I wish I had been shown the incredible opportunity that startup marketing is. Looking back, I wouldn't change a thing—startups are a pressure cooker of high stakes and big wins (as well as big failures and bigger lessons.) I feel I am a more resilient human, more confident marketer, more collaborative colleague, and more trusting in my own abilities to make things happen against all odds because of my time working with startups.
Melissa Sciorra, senior manager, SEO + content marketing, SmarterTravel: I wished I had learned in high school that welcoming uncomfortable experiences and opportunities were more important than staying within a comfort zone. It's every nerve-wracking "yes, I'll do that" or "sure, I'll learn that" that has pushed me to grow both as a professional and as a human-being. Every "yes" opens the door to something new, and it's okay to feel uncomfortable.
Penny Baldwin, svp/CMO, Qualcomm: Even on your darkest day, when the world goes completely sideways and you can't imagine just how much worse a given circumstance can get … take a breath. Kiss your husband. Hug your dog. And have a glass of wine. It gets better, I promise.
Adam Lasky, director of marketing, TeePublic: I wish I learned that employers never look at your GPA when interviewing prospective employees.
Grant Johnson, president/CEO, Responsory: Savor the few big moments in life; but cherish the frequent smaller moments. They make up the majority of our fondest memories.
Stephanie Crockett, evp/managing director, Mower: The most important thing in work (and frankly, in life) is to surround yourself with people who share the same values. Treat others as they want to be treated and never compromise your principles. That, and to moisturize.
---
Jealous of kids going back to school? Want to continue your own marketing education? Join us at LeadsCon's Connect to Convert 2019 in Boston, Sept. 25-27
---