The Amazing Aperol Spritz Literally Sells Itself
While traveling in Croatia this month, one of the women in our hiking group ordered an Aperol spritz as we gathered prior to dinner. The red-orange color made for a beautiful presentation for the beverage served in a tall stem glass with lots of ice and a slice of orange.
We were all curious about it. It looked refreshing and delicious. It turns out, that's exactly what Campari, the makers of Aperol, had in mind for us—if we got a mere glimpse of the drink, we'd want it. For marketers, that's a dream come true: just the site of the product prompts people to buy it.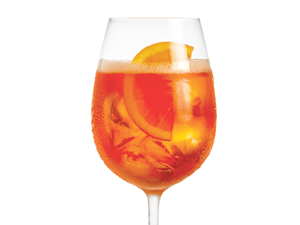 The liqueur has a citrusy-bitter taste and has been popular in Italy since the 1950s. When the brand saw a growing interest in the U.S it began a clever marketing campaign here, the New York Times reported.
Melanie Batchelor, the vice president of marketing at Campari America called the drink "sunshine in a glass." And so it is.
The woman on our trip is from New York, where the Aperol spritz has skyrocketed in popularity over the last year and can be ordered in many restaurants and bars.  Aperol began its marketing push in New York popping up Aperol spritz booths at popular events this summer including the Jazz Age Lawn Party and the Governor's Ball, the NYT said. The spritz is made with Aperol, Prosecco and club soda, garnished with a slice of orange.
Last summer, scooter cars, tricked out like mini bars, scooted around the Hamptons offering free samples. The Hampton Jitney, a bus typically packed with New York City weekenders was wrapped in Aperol's standout colors and included a recipe. The strategy to get the beautiful drink into consumers hands, who then spray social with selfies and pics of the spritz shared with friends, appears to be working. Since last summer, sales rose 48 percent, the NYT reported.
At our groups farewell gathering, at least half of the 11 people had an Aperol spritz sitting in front of them ready to raise a glass to toast the great experience we all had, the beautiful country and our newfound friends—including me!