Bangle Blend: How Alex and Ani Connect Across Multiple Platforms
Are you a woman? Do you have any women in your life? Do they have wrists? If you answered yes to any of these questions, you're in Alex and Ani's target audience.
This may seem like a broad target but considering that the brand positions itself around the concept of "positive energy," it isn't surprising that it is confident about its ability to reach everyone with a style aimed at being both timeless and on trend.
The Cranston, RI-based company, which started with one store in Newport, RI and expanded to over 40 retail stores, wholesale distribution and a booming ecommerce operation, is looking to an integrated mobile strategy to engage in-store customers with Alex and Ani's products and brand proposition, says Ryan Bonifacino, vice president, digital strategy, Alex and Ani.
Alex and Ani's core product are bangle bracelets featuring charms that represent everything from family connections and favorite sports teams to pretty flowers and seasonal designs. The jewelry concept is stackable—women can wear one or many depending on how fashion forward they want to be and what type of look they desire. "Every product means something different for everybody, and you can assemble and customize your own look."
Charmed Life
Print, TV and radio serve as traffic generators for both the retail stores and the website. Bonifacino acknowledges that determining what exactly drove traffic can sometimes be challenging.
"If you're doing programmatic media buying in areas where you have a store, it gets tough to measure, because everybody asks the question 'would the customer have found the brand and purchased otherwise?'" he says. "And if I'm paying a premium for customer acquisition outside where we have a store, can I feel comfortable knowing they wouldn't find us otherwise?"
The brand ran Super Bowl ads in 27 markets, with a strategy to get men thinking about Valentine's Day purchases. The "Main Street America" spot capitalized on the made in America aspect of the brand, and the idea of positive energy rejuvenating business districts around the country.
"Some people take action during the commercials, even if they're not buying, such as going to the website to learn more about the products or brand," he notes.
Pre-roll video on YouTube giving people a sneak peek at the commercial created pre-game buzz for the brand, which spends eight figures annually on radio, print and TV.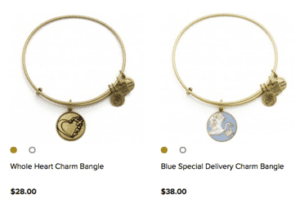 Digital marketing supports not only Alex and Ani's ecommerce site but wholesale partners like large retailers as Nordstrom as well. The brand's approach is to use content marketing to tell a story and use social to offer a high-touch version of customer service. This is important to Alex and Ani founder Carolyn Rafaelian, who wanted to keep the spirit of when the brand had one store and a customer would feel welcome to walk in and talk about product ideas and problems. No tweet goes unanswered, with a social media manager serving as the "air traffic controller" of an in-house team dedicated to social listening.
The four cornerstones of the brand are made in America, a commitment to charity, personalization and being eco-friendly. To this end, the brand started offering the option of paperless receipts via email back in 2009, integrating the point-of-sale system in the retail stores with the CRM systems in real time.
"It's about modeling the online-offline journey and vice versa, and looking about how many people are exposed to the brand online and then go into the store, or the other way around," Bonifacino says. "We can lift both by centralizing data and looking at the customer through one lens."
Other ways the brand uses email include offering a welcome series to customers new to the email list, using social data to customize messages unique to the individual. However, it is important not to use email for constant "buy-buy-buy" retargeting.
Alex and Ani doesn't believe in heavy discounting, instead offering one bangle of the month discounted by $5 and promoted by email. "We want to look at those who express the highest level of intent and engage them with the brand," says Bonifacino.
In addition to POS, email addresses are collected at events like the Bonaroo music festival, where Alex and Ani run promotions like photo booths and contests. There are currently about 1.4 million names on the brand's email file.
Mobile Bling
The brand is looking to create an app by the fourth quarter of 2014. It already has a technology partner selected for the project, which will center on greater engagement with the customer when they are in an Alex and Ani retail location.
"For us, the goal was to connect mobile technology to an experience to enhance the customer's experience," says Bonifacino.
During peak shopping seasons, Alex and Ani has the good "problem" of stores being very busy.
"Our high-touch 'bartenders'—what we call our salespeople—spend a lot of time talking with customers and discovering who they are buying a gift for or what they would like for themselves," he says.
Mobile won't change that approach. But what it can do is offer customers additional information on products and supplement the experience.
Alex and Ani has partnerships with a number of charities, as well as every branch of the military, Disney and the NFL. Imagine a scenario where someone is in front of the Charity by Design case and they get content pushed to their phone relevant to that collection. They can read about the meaning behind the product, see how it fits into Alex and Ani's stackable concept and learn more about a charity such as Stand Up to Cancer, accessing images from Instagram or other sites. "We can really change someone's in-store experience and bring in the stories about the product."
Alex and Ani was the first fashion retailer in the country to do a nationwide rollout of Swirl's iBeacon technology in February. Swirl's platform uses micro-location technology to allow retailers to engage users via their mobile devices as they approach or enter a store location, and present offers like a welcome thank you gift for shopping, or alert them to a special in a particular department. Smartphone users need to have the Swirl app installed to receive the messages.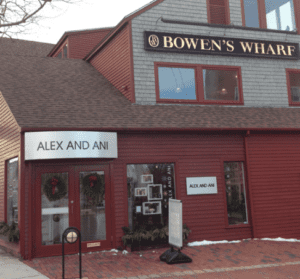 "We want to get to a point where we can use iBeacon technology to drive incremental traffic into the store," he says, noting the brand will judge mobile ROI by both engagement and sales.
For the future, Alex and Ani is looking to extend its product line beyond bracelets and jewelry, expanding its presence as a lifestyle brand with products like candles or fragrances. And through all its growth, Alex and Ani is committed to keeping the company Rhode Island based, with design and manufacture of its products staying in the Ocean State.