Absolut Elyx tries to Knock Off Grey Goose: Forbes Video
Pernod Ricard has a new luxury vodka on the market: Absolut Elyx. A campaign is underway to dethrone Grey Goose.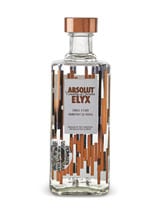 In this 5:42 video interview from Forbes, Jonas Tahlin, CEO of Absolute Elyx talks about the history of Absolut and its strategy in taking the brand to market. The company is investing more in Elyx than any other brand working to educate consumers that you don't have to dump cranberry juice into the liquor to enjoy it. You can drink it neat or on the rocks to enjoy its flavor.
Tahlin is interviewed at the Elyx House, a 5,000 square foot expansive loft space in Manhattan's Meat Packing District that is also his private residence. The only way in is to know how to open the secret bookcase door.
"Experiences are central to our success," Tahlin says in the video. "It's a living breathing ad. We have to do it that way when the old method of slapping an ad on the back of a magazine is not effective anymore."
Last month, Elyx appeared at immersive pop-up brand experiences in the departure areas at JFK terminal 8. Visitors received complimentary Elyx cocktails.
At the end of the video two editors from Forbes conduct a blind taste test of three vodkas: Elyx, Smirnoff and Grey Goose. The results may surprise you.