Trucking Firm Celadon Speeds Ahead With Agile Marketing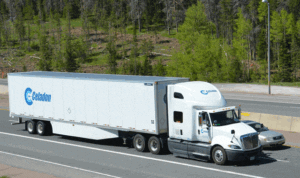 Transportation firm Celadon is in the business of helping companies transport freight as efficiently as possible. It's no surprise that its small in-house marketing team wanted to find the right road for trafficking jobs within the organization as well.
Implementing agile marketing methodologies turned out to be the GPS to streamlined operations for the Indianapolis-based company's four person marketing team.
"We were wearing a lot of hats and wanted to introduce more robust marketing products," says Ben Green, senior manager of marketing and creative services at Celadon. "This is one of the big reasons we wanted to implement agile marketing, to cut down on work and take things to market as quickly as possible."
Celadon is a transportation and logistics company operating in the U.S., Canada and Mexico, and employs more than 4,000 associates for long haul, regional, flatbed, bulk tanker freight and other trucking services. Annual revenues exceed $600 million; the company operates roughly 3,000 tractors and 8,700 trailers. The sales cycle varies, depending on whether bids are for one-off or ongoing contracts. Customer service reps are tied to top-tier accounts, and the company also does outbound marketing to reach new audiences.
Green's marketing team regularly gets internal requests from nearly 50 stakeholders within the organization. These could include full campaigns for the recruiting department, new types of trucking lines, internal communications, event planning, supplemental materials, print, digital campaigns and more.
On an almost daily basis, requests were received in any way you could imagine—email, voicemail, sticky notes, or during passing conversations. The team relied on paper lists and a free to-do-list application to keep track of work, but there was no centralized clearinghouse for requests—or communications about those requests.
"We were developing full campaigns based on requests, and then having to start from scratch because a stakeholder didn't like an idea," says Green.
About a year ago, Celadon began implementing the SaaS agile workflow management solution Workfront. Agile allows stakeholders to get involved in campaign planning earlier in the game and give feedback throughout the creation process. This allows the team to avoid having to scrap work if someone is unhappy.
"And if something is successful, it allows us to more readily spin it off into something else," says Green, who estimates an agile strategy has allowed his team to work about 25% faster, and hold 50% fewer status meetings. "It's great for us to be able to expand projects, and have more visibility. We can tell right away when something is off the rails."
Celadon's team now prioritizes projects in slow bursts of work, or "sprints," and has weekly meetings to go over everything in process. Requests that were once made verbally or via email are now handled in a queue within the Workfront system, and templates are used to streamline repetitive tasks. Proofs of in-process work are also shared within the system as well. The agile workflow allows the marketing team to manage the projects with greater visibility, and keep requestors in the loop at every stage of the process.
The best way to implement agile is to monitor what our team is doing, and see if it is really having the impact on business that you desire, says Chris Savoie, director of product strategy, Workfront.
"One of the key tenets of agile marketing in general is that you don't change for change's sake—you change because your intended target market is driving you to change," Savoie notes. "Focus on the feedback process and use feedback to make small changes—the whole point of agile is to be flexible enough to respond to what customers need."
For example, 75% of Celadon's marketing is focused on getting new drivers, because turnover is typically 100% on an annual basis.
"Driver marketing is a huge part of our business," says Green, noting that drivers often job hop wherever the grass is greener.
Digital campaigns, billboards, overnight radio and ads in print booklets are used to advertise for new drivers. Because of the continuous need for materials, the marketing team was often requesting extensions on deadlines. This was compounded by the fact that multiple stakeholders needed to sign off on creative campaigns.
"Agile marketing [helped us] keep up with our increasing workload and keep stakeholders in the loop," says Green. "We had to be able to maneuver better without sacrificing productivity."
Related Articles:
Why B2B Marketers Need AR and VR Solutions