Putting Chatbots in the Marketing & AI Conversation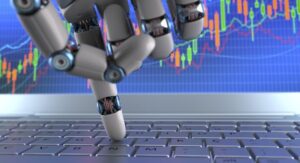 Artificial intelligence may still sound like a distant future, but don't be fooled. Social media users are already living AI-fueled lives online, and studies show they're eager for marketers to take the technology even further.
A recent Weber Shandwick survey found that many more people view AI's advent as a good thing rather than a bad one — both for society and for themselves. Forty-five percent of respondents foresee a positive societal impact; just seven percent see a negative one. When it comes to their personal lives, 52% expect AI to benefit them; again, only seven percent said it'll make things worse.
But it isn't just consumers who see a brighter, bot-filled future. Business leaders are coming around, too. The same survey found nearly seven in 10 CMOs said their companies are using AI or plan to soon. A solid majority — 58%— believe companies, regardless of industry, will have to adopt AI by 2021 to remain competitive.
Today, the major front in the AI race is chatbots. Via chat apps like Line, Alexa, and Facebook Messenger, these digital assistants use natural language processing or decision trees to communicate with customers or act on their behalf.
Chatbots might not seem like a marketing must-have at first. But as with virtually all technologies, they're rapidly becoming more capable, and you might be surprised at how today's bots can benefit your marketing efforts.
What Can Chatbots Do for You?
To start, chatbots offer a new way to know your customers. For users, chatting with bots is like messaging friends. There are no service reps breathing down their necks, and they're not trying to pick the "right" survey responses.
But it's not just about accuracy. Chatbots generate richer data than simple page analytics. On top of click data and visit times, bots can gather intelligence on customer sentiments, needs, and engagement. That's essential information for turning one-time buyers into repeat customers, which costs five to 25 times less than acquiring new ones.
Get started while chatbots are still new and intriguing to customers. If you set one up, customers will be drawn to it, despite its commercial roots. Messaging app Kik found users who interact with chatbots spend 32 percent more time on the app than peers.
Then there's the ROI that AI provides. Remember that chatbots can gather deeper, more personal customer information. AI also provides previously impossible analyses without the overhead of a dozen marketing strategists. Instead, you might hire two strategists alongside a machine learning model. Some models — not all, of course — can be built for less than $10,000. The average strategist's salary is $69,500 per year. You do the math.
Lessons From 2016
But, as with all new tools, there's a right way and a wrong way to build chatbots into your marketing efforts:
Make it unbreakable.
Frankly, the best-known AI experiment to date didn't end well. Last March, Microsoft launched Tay, an AI-powered Twitter bot. Twitter users, however, quickly realized they could put words in Tay's mouth. In less than a day, they'd trained it to parrot racist, hate-filled rants. Microsoft, even more quickly, took Tay offline. The lesson? Humans like to break bots.
To clear this hurdle, you'll need the right algorithms. Measure the accuracy of your bot's "brains" by how consistently it answers customers' questions correctly. Efficiency, in this case, doesn't always require complexity.
What do I mean by that? Well, a state-of-the-art neural network allows your bot to dig deeply into customer questions and eliminate specious results. But what if a simple linear model will work instead? Not only is it cheaper and faster to build, but it is also easier on your servers and reduces the possibility of bugs. A Porsche is great for racing, but it's overkill on a golf course.
To determine whether your algorithm has ample horsepower, test it with a small data set before setting it on your entire stockpile. Then, do it over and over again. Keep testing and refining it until the error rate drops below acceptable levels.
Make it human.
Another problem we saw in 2016 was a rash of bots that sounded, well, like robots. Because we're in the technology's early days, people are building bots without best practices in mind. It's like 2005 all over again, when the web was full of sites created by people who'd put no thought toward users' journeys.
Don't be afraid to get creative. The builders behind Poncho, a customizable weather chatbot, imbued it with the personality of a Brooklyn cat. Thanks to its fun, spunky vibe, Poncho boasts double the retention rate of comparable mobile apps. Lead the user with strong storytelling and resonant design elements.
It's easier said than done, of course, to entertain users while solving their pain points. But when a bot doesn't respond in a "human" way, it feels broken. Both strategic planning and creative execution are essential if the market is to shake the "dumb bot" stereotype.
Make it smart.
The last pitfall involves using a bot backed by a decision tree to interact with human beings. Operating a chatbot with a rigid script is like arming salespeople with 10 Japanese sentences before deploying them in Tokyo.
To sidestep this mistake, use other AI tools available to you. Canadian AI company Maluuba, now owned by Microsoft, is using reinforcement learning to raise an increasingly bright chatbot. Although it's not yet ready for public showing, the bot doesn't simply send users to the web when it can't answer questions. Instead, it "reads" text, helping it communicate information beyond what can be programmed into a decision tree.
Your model should similarly improve with each interaction. Reinforcement learning is still a niche field, so finding the right machine learning expert for your bot is tremendously helpful but difficult.
As AI gains ground, expect it to become indispensable. Much as apps and social media went from curious gadgets to everyday necessities, so will chatbots and AI. It's only a matter of time. Will you be ahead of the curve, or will you be behind?
Vince Lynch is the CEO of IV.AI.
Related Articles:
Why Marketers Need AR and VR Solutions
Give Your Landing Pages a Clear Purpose