Nerf Guns and ABM Help Cybereason Hit Targets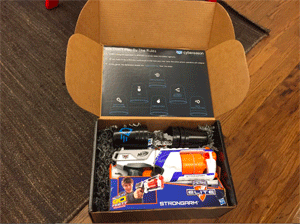 A combination of creative direct mail, ABM and Nerf guns are helping cyber security firm Cybereason reach prospective customers.
Not surprisingly in today's environment, chief information security officers (CISOs) have a lot of buying power, says Patrick Shea, vice president, demand gen, Cybereason.
To reach this audience, the company uses a combination of inbound marketing techniques and account based marketing. Teamwork within the organization is vital to success.
"An account based marketing strategy is only as good as your account based sales strategy," says Shea, who spoke at Inbound 2017 in Boston. "You need sales and marketing alignment."
The company implemented top tier account tracking in Salesforce, and limited the number of priority accounts a rep could have at one time, to increase their focus on those key targets.
To get on the radar of CISOs in target accounts, Cybereason did a dimensional direct mail piece featuring custom Nerf guns last fall. To show their attention to detail, batteries and a tiny screwdriver to open the battery compartment were included (the Cybereason logo was on the screwdriver).
The package got a lot of "cool social love," and proved to be very effective in helping increase year over year pipeline traffic for the company. "#pewpewpew" one happy recipient tagged on Twitter.
Marketers live and die by conversion rates, so it is essential to remain as nimble as possible where you can in areas like direct mail and email, Shea notes. "Marketing needs to build plays that can cover all personas and sales stages, and pave the way for sales with verified data."
Allowing sales reps to have visibility into how accounts are being communicated with is vital, he says. Account mapping, coupled with data from sources like Zoominfo or Rainking can help fill in gaps and create a better picture of your targets.
Key ABM metrics for Cybereason included new opportunities generated by each campaign, the cost per campaign and the last activity by accounts at various stages.
Related Articles:
Finding Channel Partners With ABM: 3 Tips 
Q&A: Steve Kozek on GE Capital's Marketing Challenges