Light + Fit Launches 'The Comeback' Program to Support Women Reentering the Workforce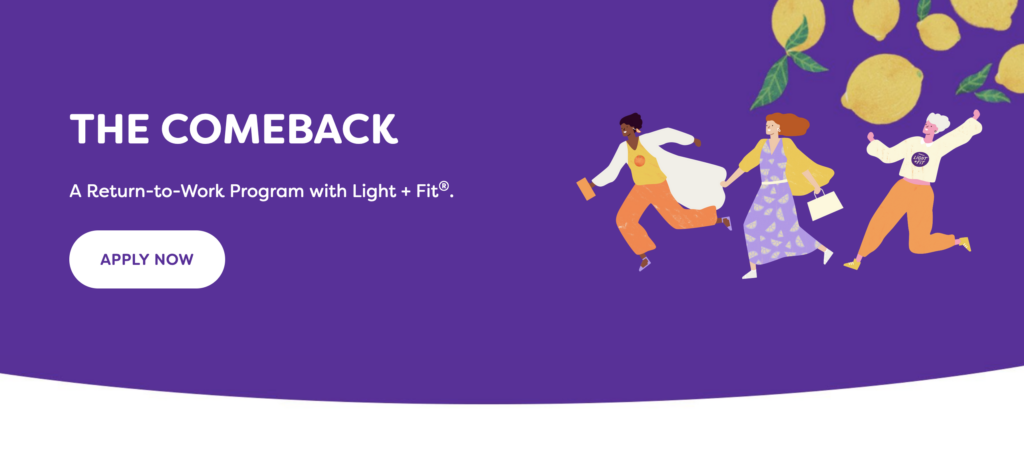 Consider this sobering statistic: Nearly one million women ages 25-54 have left the workforce since February 2020, according to numbers from the U.S. Department of Labor. It's one of several reasons why our annual Market Like a Mother feature, which recognizes marketing moms excelling in the workplace and at home, felt even more vital this year.
The insight has also fueled a new initiative from Danone North America's Light + Fit yogurt brand, dubbed The Comeback, that helps a small group of women return to work through a paid summer program led by Danone brand marketing executives.
"It's designed to help reacquaint participants with the workplace, help them gain valuable experience and ramp up the next chapter of their careers after an extended break," says Surbhi Martin, VP of Marketing, Greek Yogurt & Functional Wellness. "We want to be that bridge with this 'returnship' program and close those resume gaps so that they can return to the workplace more easily." Indeed, the brand's updated mission—to support women's economic empowerment—was a perfect fit. We spoke with Martin about the initiative and the brand's mission, acquisition strategy, marketing shifts resulting from the pandemic, and more.
Chief Marketer: What inspired you to create The Comeback program?
Surbhi Martin, VP of Marketing, Greek Yogurt & Functional Wellness: Light + Fit is a trusted brand that has supported women on their health journey for more than 30 years. Our mission is to help women lighten the load when they are trying to balance their life, their work and their own wellness. We also want be a brand that supports women's economic empowerment. The insight that drove our program, The Comeback, is that since February of 2020, nearly one million women have left the workforce due to a variety of reasons, from lack of paid family leave to limited childcare resources, and as part of our mission to help support women balancing their career and their family, we want to be part of that solution.
CM: Having a mission and a brand purpose is more important than ever. Is this a new mission for the brand?
SM: Over the course of the past year or so, we've evolved our mission to be more focused on women's economic empowerment. The first example of that mission coming to life was at the end of last year when we launched the Dress for Success Greek yogurt flavor. This was a partnership between Light + Fit and Dress for Success where we launched two new flavors, lemon cream and orange cream, that support and celebrate women's economic empowerment. We also donated $100,000 to Dress for Success to support their mission and partnered with a female illustrator to design the art on the new packs. We supported it with a campaign that included shopper marketing tactics and partnering with influencers in the food space. These packs have done really well after just a few months in market; since launch, they've already exceeded our sales rate expectations by 40 percent.
Then with The Comeback, we're creating the first pilot return-to-work program on the Light + Fit brand to help be a bridge to bring women back into the workforce through a "returnship" program. They will be working with Light + Fit brand marketing executives and some cross-functional executives that are supporting and participating in the program at Danone North America. It's a six-week paid summer program designed to help reacquaint participants with the workplace, help them gain valuable experience and really ramp up the next chapter of their careers after an extended break.
It's been designed in this way is because we know that one of the challenges women face when returning to the workplace after an extended leave is a resume gap. We want to be that bridge with this returnship program and help close those resume gaps so that they can return to the workplace more easily. Our hope and our plans are that we would expand this program more broadly after the initial pilot this year.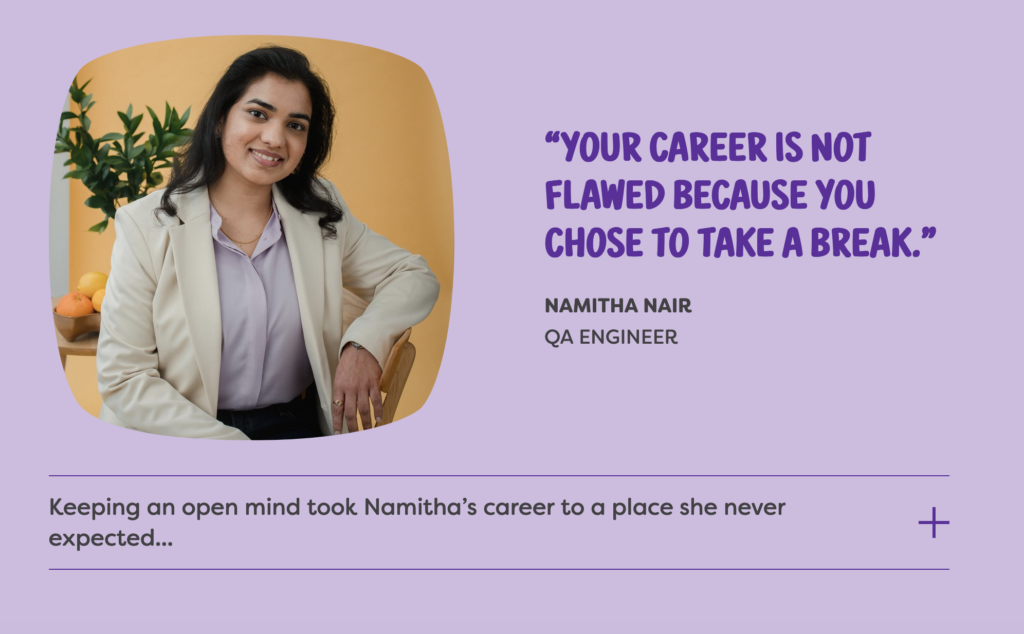 CM: How are you getting the word out about this program? What channels and tactics are you using?
SM: We are launching with a 360-integrated marketing campaign, with social (Instagram and LinkedIn), owned content, as you've seen on The Comeback website, PR and influencers, specifically the healthy eating guru Hungry Girl, and through a strategic partnership with Women Back to Work. They are known as the returnship expert and have helped some of the largest, most recognized companies create custom return-to-work programs for female professionals. They're an important strategic partner that's helping us get the word out. We're also talking about it with some in-store retail, signage, shopper materials and through sampling kits.
CM: Speaking more broadly, how do you approach marketing Light + Fit as a brand, in relation to the others that you market? What are your challenges?
SM: We have a portfolio of Greek yogurt brands at Danone North America. We did some proprietary consumer research in 2020, both consumer qualitative and quantitative, with 6,000 consumers. That research helped us segment demand in the Greek yogurt space, and we were able to position each of the brands in our portfolio to serve distinct consumer needs. It allows us to manage our portfolio in a way that's MECE-y—Mutually Exclusive, Collectively Exhaustive. That house of brands strategy is a key part of how position our brands and market them to different consumer groups.
In the case of Light + Fit, we know that we have a loyal large consumer base—often that's been with us for many years. So, our communication strategy is focused on maintaining top-of-mind awareness and driving buy rate among our core loyal users. And then in addition to that, we are looking to recruit new consumers who may not be familiar with Light + Fit or who might perceive it as a dated, old-school diet brand. We're trying to challenge that brand perception and drive consideration and ultimately trial with newer users.
The research that I mentioned has allowed us to distinguish strategic targets for Light + Fit. These are consumers who are on a weight management, health-and-wellness journey, but who are maybe not aware of the variety of flavors and delicious taste that Light + Fit can offer.
CM: The pandemic has required marketers to experiment with different channels and perhaps shift marketing spend to different areas. How has Light + Fit adjusted to the changes in consumer shopping habits?
SM: In terms of formats, during the pandemic we saw a shift from eating outside the home, such as at-work or on-the-go, to eating more at home. As a result, we put more emphasis on marketing our larger-format packs, such as our multipack, as opposed to single-serve packs that serve more of that on-the-go occasion on the way to work or as a snack on the way to run errands. Frankly, we expect some of that shift to stick. We think that consumers will continue to consume more at home for the next year or two, because some of that behavior is going to continue even as we start to reemerge in a post-pandemic world.
In terms of channel mix and marketing spend, we certainly spent more on ecommerce websites. It's no surprise that consumers were doing more of their grocery trips from home versus going in stores during the pandemic. And that prompted the acceleration of growth in ecommerce channels. We did shift some of our dollars to be able to be reach consumers where they are. That acceleration of shopping more online on ecommerce sites is something we expect to stick post-pandemic as well.