Grant Thornton Teams With PGA for TV Spot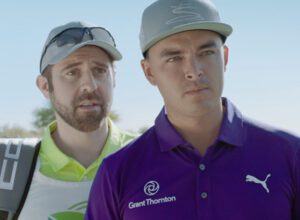 Audit and tax advisory firm Grant Thornton is leveraging a partnership with the PGA in a new TV spot featuring pro golfer Rickie Fowler.
Fowler, the eighth-ranked golfer in the world, stars in the 30-second spot, which debuted during the Dell Technologies Match Play Tournament in late March. In the spot, as Fowler lines up a shot he asks his caddie for advice on which club to use and the caddie spouts back meaningless jargon. The tagline? "Need solutions that make sense? Discover Grant Thornton."
"Clients are looking for pragmatism," says John Harmeling, CMO at Grant Thornton. "They want to drive business forward and don't want to engage in buzzwords and jargon laden consultant speak."
Created by gyro Chicago/Denver, the spot kicks off the new "Obvious Change" campaign, part of the company's "Status Go" brand platform. Grant Thornton's target audience are professional decision makers. The PGA is a good partner for the brand, says Harmeling, as more than 90 percent of Fortune 500 CEOs play golf.
"This spot puts us in front of our decision makers," he says, noting the campaign will extend into other media, including social channels. "It's a good fit because this audience dramatically over indexes for golf."
Grant Thornton leverages its PGA Tour sponsorship on a number of levels in addition to TV, including radio and digital channels. The annual Players Championship tournament—slated for May 8-13 in Ponte Vedra Beach, FL—is a perfect backdrop for relationship building activities.
"It's essentially the PGA Tour's Super Bowl, and as a client hosting event, its second to none," says Harmeling.
The PGA Tour relationship lets Grant Thornton take its marketing message "on the road," to the 49 different tour stops around the country, he adds. "Golf is generally known for its integrity, and we like that connection."
Sports sponsorships can work for B2B brands looking to gain a higher profile if they resonate with the clients and customer base, says Harmeling, noting that Grant Thornton also has sponsorship deals with several baseball franchises. Brands should also consider cultural alignment, and whether the sport, team or organization aligns with the brand's core values, and what experiences the partnership can provide.
"Also consider the package itself," he notes. "What are the elements of the partnership, and how do they align with your objective? Do you get special access? Is there hospitality? Is there brand alignment?"
Related Articles:
PGA Sponsorship & TV Campaign Boosts Sentry's Profile
Manchester United and Volvo Ocean Race Partnerships Boost HCL's Profile
Putnam Investments' Road to the New England Patriots