The Era of Conversational Marketing is Here
Leading brands and experienced brand marketers are increasingly deploying messaging apps and chatbots to meet their conversational marketing needs.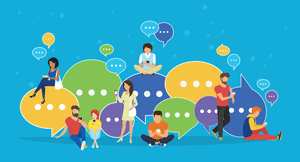 Facebook Messenger, once a distant second to China's WeChat in terms of innovative in-app features and consumer usage, has advanced its messaging and chatbot capabilities almost overnight, bringing its global reach along with it. As a result, Facebook reports that of the 70 million brands/pages active on the platform, nearly 20 million are actively responding to consumer messages on a monthly basis.
The rapid shift to messaging is no accident. Multiple sources of data suggest consumers prefer to interact with brands via messaging, as it gives them on-demand access to brands, whenever and wherever they are, to inquire about products or services or resolve customer service concerns. In China, WeChat users spend as much as one-third of their online time in the app, with a frequency of access up to 10 times per day. Similar figures are emerging in the United Kingdom and U.S., though their access is distributed across multiple apps, like WhatsApp (UK) or Kik (U.S.). Meanwhile, in a recent survey conducted by San Francisco-based Twilio, nearly two-thirds of consumers say they expect to increase their messaging app usage in the next two years.
Seeking to expand and enhance their two-way conversational marketing capabilities, brand marketers recognize the immense built-in audience that messaging apps provide. Facebook Messenger and its base of more than 1.3 billion users offers marketers a compelling opportunity to deeply engage consumers worldwide and create meaningful and enduring relationships with them.
Asia leading the messaging app revolution
In its fall 2016 report, The Future of Messaging Apps, Forrester called messaging apps "the fastest growing online behavior." Messaging apps account for more than four billion users globally—a massive built-in audience—including more than one billion Messenger and WhatsApp users respectively, and over 800 million active WeChat and QQ users respectively in China.
Currently recognized as the most advanced messaging app, WeChat is also the most used, with users accessing the app for more than one-third of their online time. Frequency of use, as opposed to total time, is also high as users turn to WeChat frequently (more than 10 times per day) to communicate with each other and brands. The reasons for this recurring access and high usage time seem clear: WeChat provides much more than simple messaging, as it enables users to interact with the brands they love, pay a bill, hail a cab, or schedule a doctor's appointment, wherever and whenever they are, without ever leaving the app.
The well-advanced features of WeChat account for its higher active use over global competitors Facebook Messenger and WhatsApp, but Messenger is catching up fast. The introduction of chatbots in Messenger allow brands to begin engaging with consumers directly and proactively develop deeper relationships with their customers. For now, given their massive and truly global reach, Messenger and WhatsApp present the only meaningful competition for WeChat's regionally-focused innovation.
Consumers want to communicate with brands via messaging—Facebook is listening
A recent study by Twilio concludes that 66 percent of consumers now prefer to reach brands, or be reached by brands, through messaging apps. A similar number, 63 percent of those surveyed, say their messaging with businesses has increased over the last two years. Finally, just over two-thirds expect to increase their messaging with businesses over the next two years.