Data on Digital Creative, Media Consumption and Consumer Confidence During Covid-19 Crisis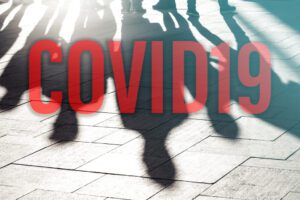 With the marketing community now fully immersed in a new Covid-19 normal, data reflective of the changes in consumer behavior has begun to roll in. Here's a look at analyses and surveys from Nielsen, Disqo and Pattern89 related to the changing business landscape and how consumers are shifting their habits and perceptions as a result.
Nielsen has weighed in on the increase of media consumption that occurs during a crisis in which consumers are forced to stay in their homes, determining that up to a 60 percent increase in TV viewing occurs. During Hurricane Harvey in 2017 and a major snowstorm in January 2016, TV usage (including streaming and connected devices) increased 56 percent and 45 percent, respectively. Streaming in particular increased 61 percent, according to Nielsen's analysis.
It also looked at consumption patterns in South Korea and Italy, areas of the globe affected first by the coronavirus. In early February, during the weeks after the first reportings of the virus, South Koreans' TV usage increased 17 percent. Media companies in Italy report that there was a 6.5 percent increase across the nation at the height of the crisis and a 12 percent increase in the hardest hit area of Lombardy.
Nielsen predicts that the working-from-home directive in place for most companies will increase media consumption. Typically, employees working remotely watch TV about three hours more each week than non-remote workers—25 hours versus 22.
—
Insights platform Disqo performed three surveys distributed a week apart, from late February to mid-March, to examine behavioral shifts in consumer confidence in personal preparedness, confidence in public institutions, effects on shopping and travel behavior, and changes in browsing data. Feelings of preparedness for dealing with the presence of Covid-19 in their region rose from 42 percent during the first week to 61 percent during the third—a potential indication that purchasing supplies and goods in the midst of the crisis is putting consumers more at ease.
In contrast, respondents did not feel confident about their public institutions' response to the crisis to the same degree, with just 20 percent during the most recent survey feeling confident that the government is prepared to handle the coronavirus. The study also showed that the degree of confidence varies by generation. Those respondents 25 to 34 years of age were least likely to be confident in the government's response, while people 75 years of age or older were likely to have some degree of confidence (47 percent).
In light of travel restrictions now in place across the globe, results to questions regarding effects on consumers' travel plans show the greatest jump from week to week. In late February, 12 percent of respondents said that the pandemic affected travel plans. That jumped to 17 percent in week two and rose to 33 percent during the third survey.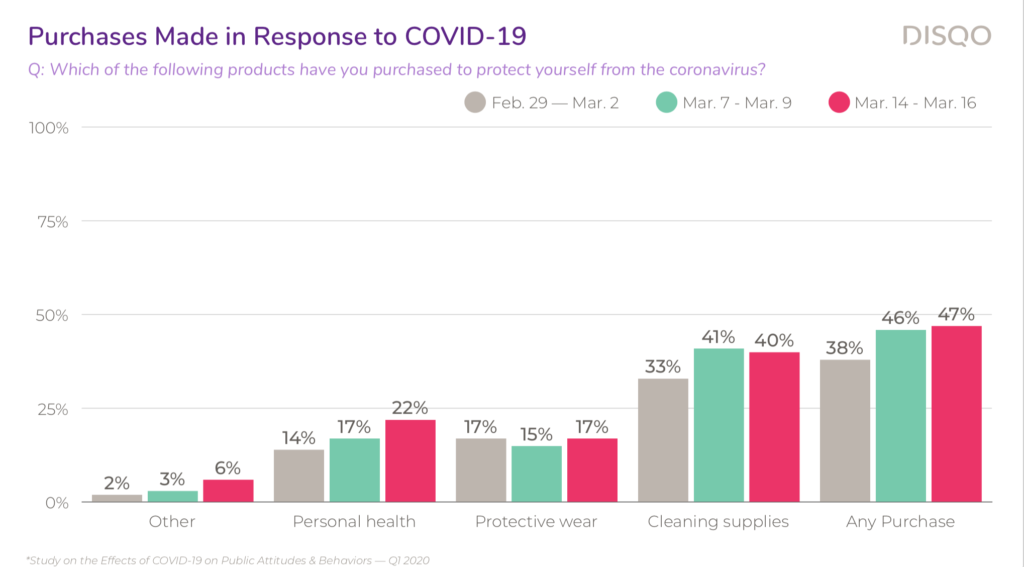 In terms of shopping habits, 38 percent of people reported making a purchase in response to the crisis. Shopping and cleaning supplies led the pack, with 84 percent of the people who reported making a Covid-19-related purchase doing so within this category. Other top categories included protective wear, including masks and gloves, and personal health.
The survey also indicated that shopping habits are changing. During the time of the first survey, 67 percent of respondents said their shopping habits had not fundamentally changed. That number dropped to 45 percent by the third week. The number of people stocking up on non-perishable foods rose from 13 percent on March 9 to 29 percent on March 16.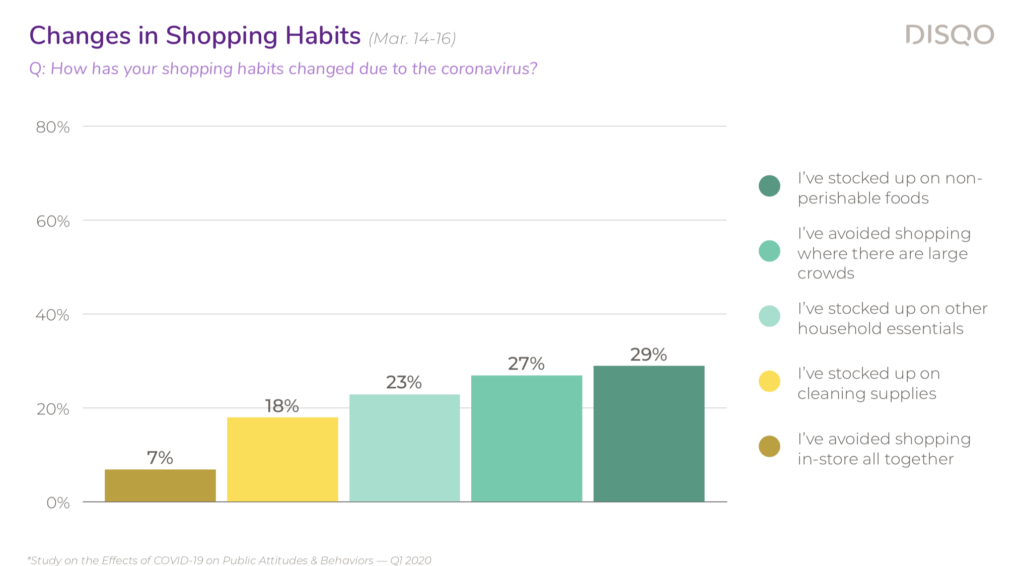 Looking at consumer browsing data, the survey measured search volume for Covid-19, but also related search items. For instance, there was significant lift in finance and stock market-related searches when looking at search data from Feb. 18-29 compared to March 1-12. The top three were searches for "Dow," which increased 213 percent; "SP500," increasing 210 percent; and "stock market today," rising by 132 percent. Lastly, over the same time period, certain grocery items lead in search lift, with french fries, rice and Gatorade topping the list.
—
When it comes to distributing advertising creative, marketers are treading cautiously. Hershey's and KFC both recently adapted their campaigns to fit changing consumer attitudes and recommendations from health officials. Other marketers are doing good during this time of crisis. AI marketing company Pattern89 recently conducted a study across 1,100 brands and advertisers on Facebook and Instagram that are using AI. It noted the following changes in creative:
*A 600 percent increase in images and videos of hand and body washing since March 11.
*Cleanliness-related images and videos—from sneezing to tissues to cleaning—have increased 200 percent.
*Imagery that reflects human connection has dropped 30 percent.
*There has been an 8 percent decrease in travel-related imagery over the last two weeks.