Dare to Be Different in Your Marketing Approach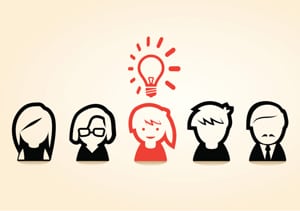 In marketing, the logic often seems to be that companies should do the same as the competition—particularly if whatever they're doing is working. But is that really the best path to success?
If you belong to a gym, you probably pay between $10 to $40 per month, with the majority of members at the lower monthly spend. When I read about a club that was charging upwards of $165 a month, I was intrigued. They have 21 locations, offer better equipment, more amenities, more classes and less, if any, waiting to use the equipment. Thanks to carving out their own unique niche, they are thriving.
One of my first credit cards was with MBNA. I really liked that company. While most cards were chasing revolvers (those who keep a balance and make money off of interest rates), MBNA aimed for transactors (those who pay off their bill each month), but charged a slightly higher annual fee. They were so successful, because they were different, that Bank of America bought them. MBNA carved out a nice niche away from sameness.
Think about all the pizza choices in any town you visit. While national chains are present, many smaller, local places thrive. They are hometown and understand the native clientele and have a unique twist that the national chains cannot duplicate.
It's this type of thinking that attracted me to measurable marketing instead of branding. Lead with strategy, track, test and measure and improve. The proof is in the results, not the water cooler buzz. Your strategy drives success, not your pretty pictures or clever copy twists.
In the Medicare space, the audience is changing and becoming more digital savvy and diversified. It is less of a homogeneous group than it ever before, yet insurers continue to offend prospects with their photo choices, marketing prose and channels that are consumed less and less. The proof is in front of them, but change is hard.
While it is human nature to follow the path that offers the least resistance and try and replicate other's success, it is those who dare to take a chance that have breakout success. Of course, when they do have that success, others replicate it, creating more me-too campaigns that get lost in all the white noise. That's why taking a strategic approach rather than simply a creative angle makes so much more sense in marketing today, especially with the ability to delve deeper into data analytics faster than ever before.
Be different and use data to help uncover your stories and lead you down the strategic path to prospecting gold, rather than the clever, creative-laden path to mediocrity or failure.
Grant A. Johnson is the founder of Responsory.