Customer Engagement Vital for CMO Job Security: Report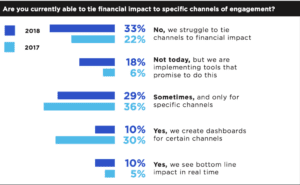 Three-quarters of CMOs think their jobs are on the line if customer engagement doesn't live up to their audience's expectations, according to a new study from the CMO Council.
But while customer experience strategies are vital, only 10 percent feel they can accurately measure these engagements against business goals, according to the report.
Businesses measure the ROI of customer experience initiatives on metrics like overall revenue growth and increases in individual sales. But most (80 percent) can only sometimes connect engagement back to business impact; 10 percent said they can measure against business goals, but only using time-consuming manual processes that only take certain channels into account.
Measurement aside, are marketers really meeting customer expectations when it comes to personalization and true engagement throughout the customer journey? Not as much as you might think: 47 percent admit they are failing to deliver on these points.
The impact of martech is also a factor for CMO security: Half of respondents believe it is possible their jobs will be at risk if tech investments fail. Marketers ranked systems that leverage real-time data to deliver relevant, contextual experiences as the top requirement for customer experience success.
Forty-one percent of those surveyed noted the greatest roadblock to a successful customer experience strategy is fragmented systems that fail to deliver a unified view of the customer experience across all touchpoints.
A single customer view is currently attainable for 22 percent of respondents. Fifty-one percent said they could possibly get there, with new tools or talent, while 26 percent said it wasn't possible.
Siloed data is part of the problem, cited by 28 percent. Things are getting better though: Only nine percent said that marketing being the only department fully invested in a data-driven strategy was a problem, an improvement over 16 percent in 2017.
"CMOs have picked up the mantle of owning the development and execution of the customer experience strategy and are fully aware that their jobs depend on the success of these initiatives," says Liz Miller, senior vice president of marketing for the CMO Council. "But many are rightfully questioning the patchwork assembly of point solutions that have been amassed in the marketing technology stack. "
The findings are based on an online survey of 211 senior marketing executives in several industries, including retail, consumer products, food and beverage, retail banking, consumer insurance and travel and hospitality.
To download the complete report, created in partnership with RedPoint Global, "The State of Engagement: Bridging the Customer Journey Across Every Last Mile, click here.
Related Articles:
Creating Great Customer Experiences: 4 Areas to Master
C-Suite Puts Emphasis on Customer Experiences: IBM Report