Brands on Fire: Michelob ULTRA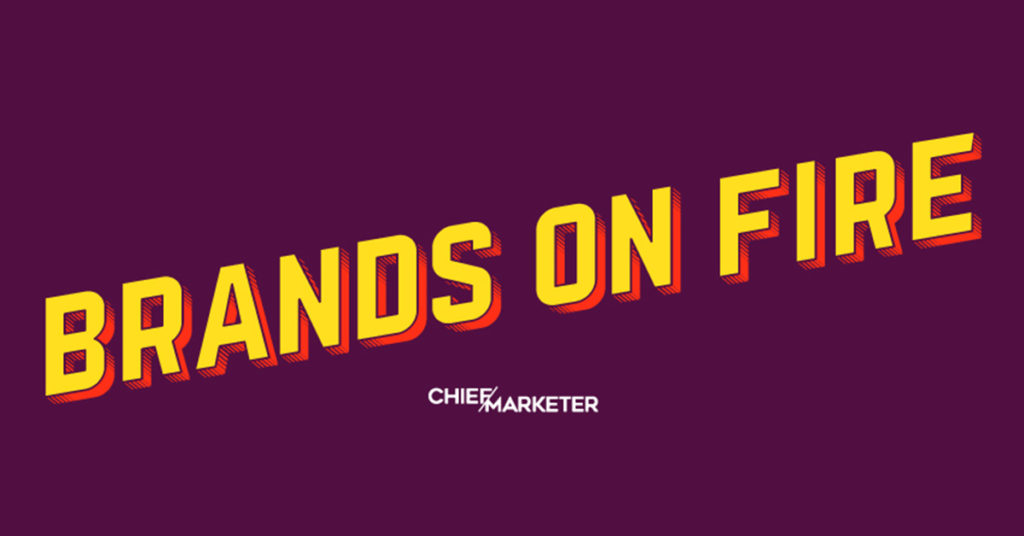 Our monthly analysis of the world's top brands and the marketing moves that are setting them apart.
—
The NBA restarted this week in the Orlando "bubble," the league's solution to continuing and televising the 2019-20 season for fans amidst the COVID-19 pandemic. The 22 teams are playing the remainder of the season in one place, without spectators to cheer on the athletes nor celebrities sitting courtside.
The new concept has, understandably, altered the sports sponsorship landscape. Fan interaction in a stadium full of empty seats? Not ideal. Enter Michelob ULTRA, the league's new official beer, which saw the potential to offer up a creative solution. Realizing that both the fans and the players could benefit from a virtual experience in the absence of a physical one, the brand partnered with the league and Microsoft Teams to create the Michelob ULTRA Courtside experience.
We spoke to Ricardo Marques, Vice President of Marketing for Michelob ULTRA, about the activation's interactivity, the brand's continued commitment to fitness fans during the pandemic and how certain marketing trends have accelerated during the COVID era.
Chief Marketer: What does the Michelob ULTRA Courtside experience entail?
Ricardo Marques: With fans not being able to attend the games, one of the things that became clear is the potential for a groundbreaking fan experience. Let's be honest: There's nothing that can replace you sitting courtside in an arena, but this is as close as you will be able to do, at least today. What makes this unique is a dedicated stream of video. It's different from broadcast. Through watching the courtside experience, you'll have access to over 30 different cameras and angles of the game. You'll be able to hear everything. There's a world-class, state-of-the-art sound system throughout the court that will allow you to hear the squeaks, the ball bouncing and the players' reactions unfiltered as they are happening in real time. As broadcast cuts to commercial breaks, you will continue to be there, sitting courtside, and hearing everything that's going on, even at halftime or timeouts.
But some of the coolest features of this experience is the level of interactivity, which allows you to discuss the game with fans who are sitting next to you. If we get an NBA legend in one of those sections, you can be watching the game with that legend, and discuss and share the experience together. Plus, the screens are so large that there's a high likelihood that you'll be picked up on TV as you would when you're sitting in a game.
CM: How many people will be able to experience this virtual courtside?
RM: You have about 300 seats per game. That's about 40,000 through the season. So, it's an exclusive experience as it would be if you would buy a courtside seat. At ultracourtside.com we're inviting consumers who are interested to take a picture of a Michelob ULTRA raven on a can or a bottle, upload that with their information and enter for a chance to win one of these tickets.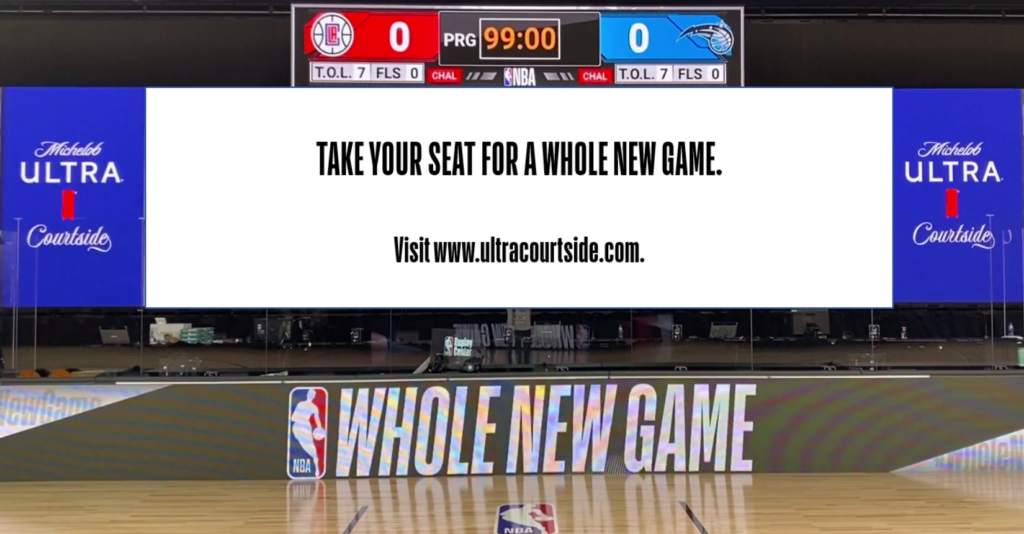 CM: What is the brand hoping to get out of this from a marketing perspective?
RM: It's about doing something that has not been done before in order to bring the athletes closer to the fans and the fans closer to the game as much as possible. Within the reality we're living in today, that's what's exciting for us. In some parts of the world you have cardboard fans, you have sound systems putting the voices of fans in the stadium. There are many attempts of bringing that level of interaction between fans and athletes. But nothing like this. The insight for us was when we started to hear some players saying, you know what, without fans I'm not playing. Because where's the fun in that, right? I play for the fans. It they're not there, the level of energy that you miss, not having fans next to you, is huge. So, that's when it hit us, how this is important not only for the fans, but also for the athletes and therefore for the quality of the game.
CM: Talk about how you had to pivot your sponsorship of the NBA because of COVID-19. Why are sports sponsorships still important, even though interacting with fans is much more complicated?
RM: We have been a partner of the NBA, as Anheuser-Busch, for over 20 years. Looking at our portfolio strategy and the fact that Michelob ULTRA is the fastest growing beer brand in the country, [we] could benefit from the power of the NBA in expanding into new markets, new parts of the country, new regions, to a new fanbase and also into new sports. We saw that this would be an amazing asset to continue to fuel the extraordinary growth we've been seeing behind Michelob ULTRA. That was the main driver behind it. Then, with Michelob ULTRA, we say it's only worth it if you enjoy it. That's our tagline. The NBA symbolizes that combination of active enjoyment. There was an amazing commercial opportunity, but then also an amazing opportunity for storytelling around what the brand stands for.
Michelob ULTRA's new spot with the Miami Heat's Jimmy Butler depicts the NBA's return.

CM: Michelob ULTRA has been focused on fitness activations and influencers in the past. How has the brand continued to engage the fitness community during COVID-19?
RM: It's incredibly important. Running has been a key passion point for our fanbase. At the start of this pandemic, one of the things that we realized was that our fans, our consumers, wanted to work out. One of the most-searched terms on Google at one point was "work out from home." The gyms are closed but you want to stay healthy and fit. We identified an opportunity to create a home workout platform which we're calling Michelob ULTRA Movement. We bring celebrities in to make those workouts even more interesting and fun. We bring in trainers, we bring in a local gym. And we have a tip jar helping local gyms, which are struggling right now. It's been insanely successful. Thirty million views later, this is probably the most-watched, the most successful home workout platform in the U.S. today. We had the likes of Maluma, Kevin Hart, Adriana Lima, Diplo.
To your point, [it's] catering to our core community of fans who enjoy a balanced lifestyle. They know the importance of kicking back and relaxing with friends, sometimes over a beer, but they also want to make sure that they are active and fit. Going back to the NBA, that's also what we love about the culture and these athletes that strikes the right balance of enjoyment and being fit.
CM: In what other ways has your marketing strategy had to shift and adapt because of the pandemic?
RM: People were spending more dollars behind physical experiences pre-pandemic, but we are seeing an opportunity around digital experiences, with Movement Live being a part of that. Broadly as a company, delivering music experiences at home is one of the things that we've been behind across other brands. The notion of digital experiences is something that's going to stay with us post-pandemic. The other thing we've uncovered is the incredible opportunity behind ecommerce. That's not necessarily new, but the pandemic helped accelerate those strengths and that has become an area of focus of ours, even more so recently.
And then finally, I would say the importance of creativity and agility. To be able to adapt quickly to the volatile reality that we're living in today. If you go back to Memorial Day weekend, we put together a plan around [the golf tournament] Champions for Charity with Tiger Woods, Peyton Manning and Phil Mickelson. We put that plan together very quickly. That level of agility and being nimble, and then working with our partners to put world-class creative on the table, that is going to continue being a very important part of successful brand building as we go into the future.
CM: Has working with influencers during the pandemic changed?
RM: There are some practical realities. When you look at our Jimmy Butler spot for the NBA, it's making sure that we produce and shoot content that adheres to all of the safety requirements needed today. But then also making sure that we use our influencers for good, to help not only gyms. We also put forward a donation through our Team ULTRA influencers to support nonprofit organizations dedicated to advancing social justice. Those are some of the ways to use our influencers' abilities to make the lives of our consumers better and also impact causes that we're passionate about and make sure that whatever we produce is done safely.
CM: What are the most important trends that marketers should be paying attention to right now?
RM: Some of them are trends that have been with us for a while, but they've accelerated. I've mentioned the move towards ecommerce. It was already there before, but the pandemic took it to another level. We knew this before, but we are living in a very cluttered environment. There's a lot going on in our lives every single minute. So, the need for brands to lean on world-class creative and tapping into creativity is ever more important, especially today. And then, innovation will continue to be a key part of that equation as well.