Troubling CX Challenges on Both the Front-and-Back Ends: Survey
Bad digital customer experiences are costing brands valuable revenue.
Ninety-five percent of customers in a new survey reported that they will leave a website due to a frustrating digital experience. Perhaps more unsettling, 22 percent said they do it regularly or always.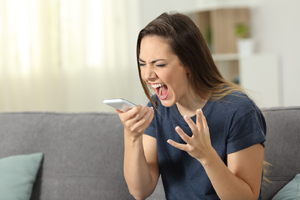 The survey, from Decibel, which questioned more than 1,000 consumers in the U.S. and UK, also found that the solution to the problem may be complex since there is no single cause for abandonment.
Topping the list of customer experience (CX) issues was ads blocking the view of content (36 percent), followed by slow page load times (31 percent) and slow load times for images and content (30 percent).
The biggest challenge for brands is the lack of feedback around a bad digital CX. A mere eight percent of consumers let the brand know what went wrong.
"This silence leaves brands in the dark as to why consumers are abandoning their sites, and forces them to rely on outdated and ineffective methods to capture CX such as Net Promoter Score and customer surveys, if the consumer agrees to participate," Decibel said.
---
Other articles you might enjoy:
---
Other notable findings include:
• Even if a consumer loves a brand, 60 percent will go elsewhere if they can get the same or similar product at another vendor with a better website.
• The top three qualities most important in defining a positive experience on a website harken back to web fundamentals: pages load quickly (44 percent), images and content load quickly (36 percent), and links and pages are easy to find (34 percent).
• While flashy experiences like personalized content, slick videos and virtual tours capture prospects' attention, they will prove ineffective in driving transactions and maintaining customer loyalty if the brand does not meet the core needs of digital users—simplicity and speed.
• 30 percent of consumers don't associate a frustrating digital experience with a single industry; retail is the top industry that consumers associate with a frustrating digital experience, however the data suggests that no industry is immune from alienating their customers with their websites, apps and other online touchpoints.
Trouble on the backend too
While customers struggle on the front end to get a great customer experience, on the back end there isn't enough CX support.
Over 80 percent of businesses are talking about the benefits of a customer-first approach, but few are turning the talk into action. Over half (51 percent) of respondents said customer centricity isn't focused on enough in their organization, despite the rhetoric, according to a report conducted by Sapio on behalf of Optimizely.
The findings show that employees from different departments across the organization need to be empowered to have a meaningful impact on customer experience. According to 79 percent of business leaders, the customer experience would benefit if the product, marketing, and IT/engineering teams worked together more closely.
Ninety-one percent of respondents claimed that their organization's employees are capable of delivering a constant flow of new ideas focused on improving the digital customer experience. However, over a third (34 percent) say that organizational structures make it too difficult to turn an idea into reality and team members don't have the time to focus on developing new ideas. Thirty-two percent say siloes cause issues, as responsibility for delivering new ideas is kept locked down in one team within an organization.
It is no coincidence that this trend has come at a time where businesses see digital disruption as a constant threat. In fact, two-thirds (66 percent) of global businesses are either moderately or very concerned about being digitally disrupted by their competition. With the customer experience pivotal to success in this landscape, 89 percent of business decision-makers see digital experimentation as an important part of transforming their customer experience, Optimizely said.