Targeted Content Helps CentralSquare Reach Public Sector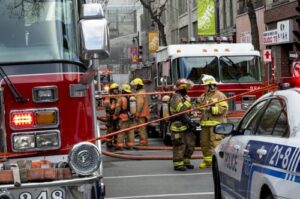 An ABM approach fueled by targeted content is helping software firm CentralSquare Technologies reach customers and new prospects.
CentralSquare is a tech company focused on the public sector, with two major lines of business. One offers solutions related to public safety, targeting buyers such as police and fire chiefs, and the administrators of 911 centers. The other solution helps cities and towns manage administrative needs such as tax collection, with a focus on those who manage day-to-day functions, such as city managers and CIOs.
The company was formed in September through the merger of four businesses—Superion, TriTech Software Systems, Aptean and Zuercher Technologies— and serves over 7,500 public sector agencies.
In business-to-business—and business-to-government—marketing, marketers often have a long buyer awareness journey, says Jatin Atre, CMO at CentralSquare. For the public sector, purchases such as CentralSquare's software can be literally life or death.
"It's not an impulse buy," Atre says. "It's a much more cognitively deeper buy. If the systems don't work, there is an impact on [the customer's] ability to provide mission critical services."
---
You May Also Enjoy:
---
The backbone of CentralSquare's marketing strategy is a combination of digital marketing and telenurturing to help educate prospects about the company's solutions. Video is also a powerful tool for the company to help tell its story.
Particularly at the end of the year, account based marketing helps the company move target accounts through the pipeline, Atre notes, adding that creating the right content for the right prospect at the right time is often a major concern.
"With ABM, the challenge is how to generate content at scale that is tailor-made for that account," he says. "If you have 400 accounts that are important to you, how do you generate a regular cadence of content for those accounts? [Distributing] content is no longer an issue, but we need to customize content for [targets] at scale."
Content creation needs to be a joint effort between sales and marketing to create content that can be personalized for a variety of accounts. In the case of CentralSquare, this means cities and towns of various sizes and demographic profiles. This sort of differentiated content is vital to help brands stand out in one of the most important channels for many B2B marketers, email.
"You can't loose sight of the fact that there are [a lot of other] emails in the inbox," Atre says, noting marketers can't risk making their email volume too infrequent. "If you can't generate relevant content quickly, you're going to lose their interest."