Salesforce Director of Marketing Insights on Communicating to Customers During COVID-19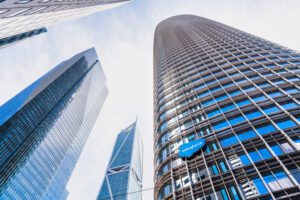 What does the future of marketing look like? It's the question of the moment, and it's one that Salesforce's Mathew Sweezey has been preoccupied with for quite some time.
As Director of Marketing Insights for the brand, Sweezey researches consumer behavior, media changes, fluctuations in experience delivery and technology to inform the brand's strategy and customer experience. Now that the marketing landscape has irreparably shifted in the face of a global pandemic, those insights become even more critical.
Sharing his team's view that the short-term is more uncertain than the long-term, Sweezey says marketers need to focus on the new normal and the next normal—and follow a different strategy for each. First, he recommends constant communication with the marketplace. How exactly should brands be communicating with stakeholders during this time? Sweezey suggests six ways for brands to communicate effectively: connect, inform, support, teach, entertain and provide.
But it's all about the context of the moment, the key tenet of his book, The Context Marketing Revolution: How to Motivate Buyers in the Age of Infinite Media. "You have to make sure that what you're doing fits inside of these things because that is what is contextual for the person right now. This is what their needs are, this is what they need help with," he says. "Brands need to find ways to work with their marketplaces, not search out creative ways to then force messages on to their marketplaces." Following are a few examples of how brands are approaching communication with customers effectively.
Connect. Connection doesn't necessarily refer to connecting your company with customers, Sweezey says. You can connect them to other people instead. "Rather than saying, 'how do I push an idea onto my market,' think about how you connect the ends of your marketplace together," he says. He cites a recent example: a nursing home that adopted a clever way to connect its patients digitally who can't leave the physical facility with those outside the home through an "adopt-a-grandparent" program. The response the business received was overwhelming. Hospitals face a similar scenario, Sweezey says. "There's your marketplace at large, but also all of the people out there who will need your services at some point in time. And then there's the people inside your walls who are currently receiving your service. Think about ways that you can connect those two people. You can create value for them right now."
Support. Purpose-driven marketing is actually a stakeholder initiative rather than a social justice initiative, Sweezey says. "Making sure that you are supporting all stakeholders is what purpose-driven marketing is about." He points to Budweiser's campaign in England as an example, whose stakeholders are restaurants and bars that have faced closure due to the coronavirus. As a way support them, Budweiser encouraged consumers to pre-buy beer at their local British pubs with gift cards, and in turn the brand would match the donation dollar for dollar.
Entertain. If entertainment is your product, this one is a no-brainer. But other brands can get creative by thinking about the specific context customers find themselves in. An example is some innovative thinking from training software company Lessonly. To reach customers who are in their homes right now rather than their offices, the brand sent printer-friendly coloring books to parents who are most likely looking for diversions for their children. "That's a massive amount of value that you can create in someone's life. You don't have to entertain them. You're entertaining their kids. It was supporting them and building a deeper relationship with their brand," Sweezey says.
Provide. Salesforce itself has provided for customers through creating a $5 million-dollar fund for small business grants, building a free product suite called Salesforce Care with solutions for companies to stay connected to stakeholders, making its data analytics platform Tableau a free resource for real-time information on the pandemic, and more. It also created the "Leading Through Change" program with influential leaders—from Mark Cuban to Brené Brown—who provide thought leadership, education and build a forum for conversation.
Another brand example is Uhaul, which—as part of its standard playbook when disaster strikes—offers free storage for 30 days in locations affected by the disaster. As a way to support college kids, it extended the same policy to them nationwide. The problem with Uhaul's gesture, though, is that it doesn't cover the length of time college students are expected to be away from campuses. Sweezey warns against applying an established playbook to a new scenario. "Old playbooks can guide you forward, but make sure that you are being empathetic," he says.
—
Like so many other B2B brands, Salesforce has continued to communicate with customers by pivoting its in-person events to virtual ones. It did so most recently with the Salesforce World Tour Sydney held in early March, which was originally expected to attract 10,000 attendees. Here are the key learnings from the digital adjustment, according to Sweezey, which ultimately garnered 1.5 million views.
Reimagine the experience. "If you're going to redo it, you first have got to reimagine what that now looks like for the individual in this new point in time," Sweezey says. It's about reimagining what would make a good virtual experience for someone sitting in front of a screen. "Most to all of our events were programs for on stage. The formats are designed for on stage and in person. They're not designed to be great experiences behind a screen," he says.
Think new content formats. Existing formats call for a single speaker and slides, which doesn't work very well for a virtual event, Sweezey says. "We realized that switching in between a lot of things means dead air time, because people would normally be walking from one session to another. They're not walking, they're staring at a screen and that has nothing on it. That meant filling that dead time with content." The brand looked to the medium of television for inspiration, aiming to produce many different segments strung together for a cohesive show. That meant transitioning stages into TV studios, ensuring the technological capability to deliver was there and finding ways to engage the audience.
Cut down the content. The sheer amount of content Salesforce had planned to distribute was no longer feasible. "We realized that there's no way that you would pivot a giant, multi-track, hundreds-of-sessions thing to a [virtual event]. You just can't keep it all. So, we cut a lot of stuff to make it fit into a more seamless, smaller event," Sweezey says.
Embrace decentralized decision-making. According to Sweezey, it's crucial to act "radically fast." In fact, the Sydney team had just 10 days to put the virtual event together—so, alacrity was absolutely necessary. That means giving people "the ability to make decisions quickly without having to pass it all the way up the chain and all the way back down. That's allowed us to be very agile, so we can reimagine what we're going to create and deliver that," he says.
A few years ago, Salesforce realized that the brand's massive Dreamforce conference had tapped out with on-the-ground attendees. Simply put, there was no way to make it any bigger. So, digital delivery as a means to enhance a live event was already on the brain.
"We've already been testing the waters of digital delivery and had some prior learnings and key pieces of technology in place that we could just easily ramp up," Sweezey says. "You've got to realize that digital is now a key piece…Every event moving forward in the next normal will be hybrid. There will be multi-tiered pricing, there will be multi-options."