Rockwell Automation Launches Maker Challenge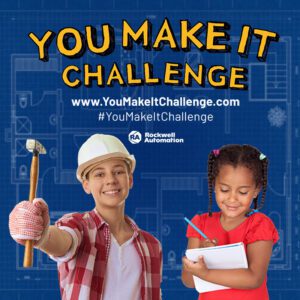 Rockwell Automation is launching the You Make It Challenge today, a STEM competition designed to engage the next generation of makers and innovators.
"This is an opportunity for us to bring our brand promise to life in a way that is actionable for the next generation of makers and builders," says Christine Spella, director of global marketing communications, Rockwell Automation. "We know that they are the pipeline that we want to build engagement and excitement with in the areas of technology and math."
In the contest, kids ages 8-17 will be asked to share their ideas for how to make the world a better place. After the July 13-July 26 submission period ends, the top 10 entries will be posted online Aug. 12, where the public will have the chance to vote for three finalists. Those three students will be paired with mentors to help refine their ideas, which they'll present at Rockwell's Automation Fair in Chicago.
All three finalists will receive a grant for FIRST STEM education programs, and the winner will receive the gear to outfit their own "maker space," including a 3-D printer and a computer outfitted with all the software they need to set them up for a future of creativity and innovation.
The competition will be promoted via a dedicated website and social channels with the help of partners like FIRST and BattleBots. "We're primarily driving it through social, because that's where kids are engaging most of the time," she says.
Inspiring the next generation is important for companies like Rockwell. According to the U.S. Bureau of Labor Statistics, employment in STEM-related occupations will outpace job growth by nearly double, growing to more than nine million by 2022. A recent Deloitte study shows that the skills gap may leave an estimated 2.4 million manufacturing positions unfilled between now and 2028, with a potential economic impact of $2.5 trillion.
---
You May Also Enjoy:
---
The competition is the latest extension of Rockwell's Expanding Human Possibility Platform. "We need to tell the story of not just our products but the impact they have," says Spella.
Rockwell has a diverse target audience, with automation products and solutions geared to numerous industries including CPG, automotive, life sciences, oil/gas, mining and pharmaceutical. Marketing not only targets decision makers such as COOs and CIO but also team members who actually implement solutions, such as plant managers.
Expanding Human Possibility launched last November at the 2018 in Automation Fair in Philadelphia. "The platform is the result of an 18-month strategic effort across the organization to understand from a strategic point of view how to best talk and think about what we do to inspire not only employees and organizations but the world as a whole," says Spella.
The challenge was to look at elements of branding that sometimes don't get enough attention, she says, noting the brand wanted to take a holistic approach to create more than a tagline.
"A lot of the time brand work can be driven into a campaign, versus being a true opportunity to engage and motivate an organization to think, speak and market differently," says Spella. "This is really about bringing the human impact and people to the center of what we do from an automation perspective."
An analysis of what Rockwell's competitors—and Rockwell itself—was doing in marketing and branding showed that automation companies typically talk most about their product's features and benefits. "But," she says, "they don't speak to the positive impact that they have on the world, which is significant. Clearly articulating the 'why' of how you do things is becoming more relevant in marketing and brand strategy over the last decade, not only in B2B but B2C and across the board."