Ellie Mae Creates an "Experience" for B2B Buyers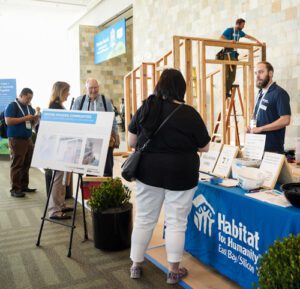 An omnichannel approach is helping Ellie Mae elevate the impact of its annual Experience event for both B2B mortgage industry prospects and customers.
After several years in Las Vegas, this March's Experience was held in San Francisco at Moscone West, making it a homecoming of sorts for the Bay Area-based company, notes Susan Beermann, Ellie Mae SVP and CMO.
Over 3,000 customers and prospects attended the event, which Beerman described as many events in one, offering content for attendees at numerous job levels and interests. "It continues to grow and has become a 'who's who' of the mortgage industry," she says. "It takes time and money to attend a conference, and we want to make it worth it."
Events are among the top lead generators for B2B marketers like Ellie Mae, a software provider for lenders in the home mortgage space. Respondents to Chief Marketer's 2019 B2B Marketing Outlook survey cited events as one of their top sources for leads that have the highest ROI, topped only by email and search.
For Ellie Mae, Experience is a way to build a strong, human connection with customers and prospects. B2B marketers in general are starting to use ideas from the B2C playbook to add more personality to their events, says Victor Koppel, vice president, client partnerships, CSM LeadDog.
"Ultimately, B2B buyers are still consumers, they're still people you want to have a conversation with," says Koppel. "The mindset is shifting, and people are realizing that its more about relationship building. You want to create a memorable experience. It can't just be about numbers, bulleted lists and sales."
At eBay's seller conference eBay Open,  for example, the online sales portal created a "Pop-up Theater" space where executives and eBay employees discussed topics in a Q&A format, rather than a stuffy, formal conference session presentation. As Event Marketer reported, the informality of the session dovetailed perfectly with eBay's "Say Hello"  theme at the event, which encouraged attendees to mingle, chat and share tips about how they handle payments and shipping challenges.
---
You May Also Enjoy:
---
"It's really about saying hello to whatever it is at the event that's happening, whether it's inspiration, education, networking or fresh ideas," says Jessie Babiarz, eBay Open executive producer and head of seller events. "It felt friendly, as if you're welcome to come up and talk to anybody." (And they mean anybody: eBay CEO Devin Wenig was seen relaxing in a bean bag chair at the event, waiting to answer questions from attendees.)
Building an Audience
Promotion for Ellie Mae's Experience blanketed prospective attendees radar leading up to the event. The omnichannel approach spread the news of the event in just about every communication coming from the brand, from emails, owned social channels and the corporate website, to LinkedIn ads, on-hold messaging when people called the company and employees' email signatures.
"We find people are very much aware of the event," says Beermann.
Experience featured 10 different tracks, targeting different aspects of Ellie Mae's audience and prospective decision makers, from executives such as CEOs, presidents and EVPs, to the developers working with APIs who are developing extensions and integrations for software, to compliance officers concerned with the latest rules and regulations in the mortgage space.
This plethora of content gives Ellie Mae a strong foundation for post-event engagement. The tech company looks at what conference events and sessions people attended, and sets up ways to keep them informed after the show on the topics and products they expressed interest in. Nurture programs then repurpose content both for attendees and those who were not able to make it to the show in a variety of formats, including social posts, webinars and whitepapers. Keynotes were also simulcast from Experience (1,800 people watched the livestreams) and the recordings are available for customers on-demand.
The Bottom Line
Brands are looking at a mix of metrics to gauge the success of events, notes CSM LeadDog's Koppel. Some are top of funnel awareness generators, where the event can serve as an opportunity to launch a new product or get a new audience excited about the brand. Others are more bottom of funnel, to help to close a sale or create a VIP experience to engage key clients.
ROI from Ellie Mae's Experience was measured in a number of ways, including audience growth and satisfation surveys from the event. "On a qualitative level, we look at sponsorship revenues and registration numbers," says Beerman. "Of the prospects who came did they close? And if existing customers came, we look at their retention rate and what additional products and services they bought, [in relation to] what they did at the event."
The brand also highlights some of its charitable work at Experience, such as a partnership with Habitat for Humanity. "Being charitable is a big component of our company," says Beerman. "So there, it's less about ROI and more about supporting our core values."