Hoagies Anyone? Dietz & Watson Opens Pop-Up
Family-owned Dietz & Watson has been growing its meat and cheese biz in Philadelphia for four generations. Next month, it kicks off a celebration for its 80th anniversary by throwing a three-month party for its neighbors.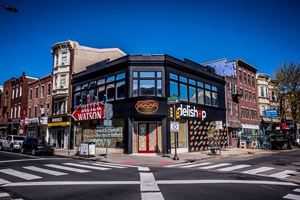 From May 1 to July 28, the "Delishop" will pop up to show off the brand's signature deli selections and sell prepackaged meats, cheeses and snacks. A number of community events will be held from family nights with face painting, music and giveaways to hoagie sampling Wednesdays. Partnerships with local breweries will pair meats and cheeses with craft brews. Special holiday events, like the one planned for Mother's Day, will let visitors make their own charcuterie board.
"There's a lot going on," says Lauren Eni, vp brand strategy at Dietz & Watson. "We didn't want it to be a static experience, but rather a living place to see the personality of our brand and to experience the food and the different ways we can prepare it."
The Delishop, with help from agency of record RTO+P, will open on one of the liveliest streets in the city—501 South Street. Instagram-worthy photo ops will share the activities beyond the shop. This also mark the brand's first foray into fashion, with hot dog bathing suits, vintage lunch boxes and Dietz Nuts boxers up for sale.
Philadelphia Flyers mascot Gritty will help celebrate the May 4 opening too—he'll be on hand to give out samples of  his 'Gritty Sauce"—Dietz & Watson Sriracha Aioli.
The store interior, designed by Philly-based Shophouse Design, features an interactive bodega, an urban backyard and art installations by local Philadelphia artists, Gloss Black and Kyle Earl.
"For our 80th anniversary, we wanted to do something special for our neighbors," Eni says. "Philly plays such a key role in who we are as a brand. We've been a part of this community for four generations, since 1939, and this pop-up seemed like the perfect opportunity to celebrate with the people of the city we consider part of our family."
---
Other articles you might enjoy:
---
Dietz & Watson has no physical stores. It sells its products at grocery stores, retailers, pharmacies, big box stores and online through Amazon, Jet.com and others. To bridge the gap between the Delishop and its merchants, the brand will debut its first ecommerce site May 1 in tandem with the opening of Delishop to sell the apparel and accessories lines and Dietz Nuts, sausage bites which launched during the recent Super Bowl.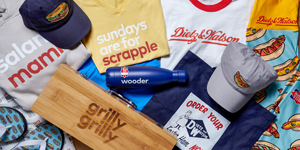 "We have very strong ecommerce push right now as a sales strategy," she says. "We wanted to provide our customers and brand advocates across the country an opportunity to purchase some of the apparel. We think it's important to bridge ecommerce sales with ecommerce brand marketing."
The shop is being marketed through paid and organic posts, influencers, as well as OOH and print ads through a local partnership with Philadelphia magazine.
"We have a digital first strategy, but also a traditional, local program trying to get people into the stores," she says.
During a sustained three-month push, messaging will be refreshed every month to introduce new food items or merchandise and accessories to maintain interest.
"We want to try to get all of our items in there at some point over the summer," Eni says.
Dietz & Watson often plays to a local theme—but knows how to take that local message national when it wants to.
Last summer, the brand tapped into the passion fans have for their hometown baseball teams.
For its "All Star Dogs" campaign, 30 custom hot dog recipes, one inspired for each Major League Baseball team, were developed after a deep dive into each teams hometown culture and cuisine influences. From the Boston Red Sox's "Lobsta Dog" to the Miami Marlins' "My Hammy Vice," the custom hot dogs highlighted each region's local flavors. There's was a crab dog in Baltimore, a taco hot dog for San Diego, and even a double hot dog for the Twin Cities.
The recipes were created to remind loyal baseball fans of the variety of premium meats and cheeses Dietz & Watson offers, while enticing new users to give the products a try. Campaign creative and messaging were distributed throughout the entire baseball season across digital, outdoor and TV, with a big push on geo-targeting on social. Social posts were served based on geographical targeting and grouping hotdog recipes by region and/or each of the six baseball divisions, often backed up by paid promotions. Each communication drove consumers to one link where the 30 recipes were listed—a savvy way to turn a local marketing campaign into a national phenom.