Memorable Events Help Sophos Engage B2B Customers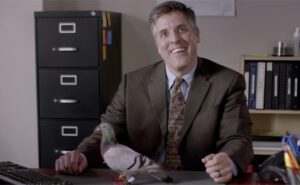 An event marketing strategy capitalizing on in-person experiences and humor is helping Sophos engage B2B prospects and customers.
Sophos is a security software provider with over 100 million customers in 150 countries. Products are sold through channel partners with a price point that can range anywhere from thousands to millions of dollars, depending on the size of the customer and what type of solution they need.
One of the company's biggest marketing challenges is making sure prospects and customers understand Sophos' offerings. "We don't want to under or over communicate, but things change every day [in our market], and there's always updates," says Sydney Leopold, marketing manager, global events at Sophos. "We want to make sure customers understand what is going on."
Much of Sophos' marketing happens through word of mouth. Event marketing is a huge part of the company's strategy, with presences at trade shows, road shows and partner events, as well as global partner conferences held in the spring, at the start of the company's fiscal year. One such event in Las Vegas this year—featuring demos, trainings and roundtables—attracted 650 partners, a 10 percent increase over the prior year.
Memorable events are a major way the company gets its message across. Internal competitions help encourage salespeople to sign up as many partners as they can to attend. Email templates with targeted messaging help support the initiative.
"I want to make sure the sales team has every resource possible, and that we're all on the same page to drive marketing," says Leopold. "That's where the relationships lie, between our partners and the sales force."
---
You May Also Enjoy:
---
Top tier partners are offered four free seats at the events, while other partners get one seat for free and have the option of purchasing more. Social media isn't a big part of the promotional push, because of the exclusivity of the events. "Not everyone gets invited, so we're hesitant to go too big in social," she says. "And the interest has been built [to attract partners] so we don't need a lot of promotion."
A lot of attention is focused on attendee engagement, Leopold notes. "There's the normal agenda with meet and greets, a big keynote and a party, but we want to make things pop."
A focus is placed on making the exhibit hall a strategic element in connecting with partners. Select partners are given the opportunity to be sponsors of the events, where users can engage with demo stations and on-demand video kiosks. The Sophos Learning Lab offers sales training and gives partners the change to discover how they can become "super users" of the software. A large touchscreen gives users the chance to click through and read information in a larger than life format, and a Competitive Intelligence Booth offers attendees the change to play a game where they answer question about the industry. Sophos also offers prizes for completing surveys, to encourage attendee feedback.
Gamification is also used to get people engaged. Attendees can earn points for what sessions or experiences they go to, and then cash them in at the "Sophos Store" for fun swag like socks featuring the company logo or playing cards featuring people important in the software security field as the characters. "Techies love this stuff. We don't invest in cheap swag," she notes. "We want people to use the things they get."
"See the future"—the theme of this year's events—was incorporate in numerous ways, such as a VR game built in-house to showcase what developments are coming in the industry. The character of Dave Malarky, a fake CEO clueless on how to run his business properly, is incorporate into the game. The "real" Malarky—who stars in a series of online videos—also made an appearance at one of the events parties, to sign autographs.
"Software security is dry, but we bring humor to it," says Leopold. "Dave Malarkey things shredding paper is the best way to stay secure."
With event automation, Sophos has been able to track attendee demand for the product after events. Event operating costs have dropped about 10 percent thanks to automation.
The ROI of events is tracked post event by carefully watching the progress of partner attendees in their sales journeys. "We can track sales and see peaks and valleys," says Leopold. "We can also gauge morale and see what people are saying about Sophos and compare how we are doing against other folks in the industry. We want partners to feel appreciated."
Before implementing event automation, events around the globe operated in silos. Each had its own owner and agency, with no consistency. Working with Certain's platform, Sophos was able to create a more consistent data flow to do pre- and post- event campaigns. "We can tailor things better," says Leopold. "We don't have to send the same big push to everyone—we can have different campaigns for different audiences."
Certain integrates with Sophos' Eloqua system, created a better flow of data cross-platform for campaign creation. With the advent of regulations such as GDPR, having the two systems talk to each other is vital, she notes.
Post event, attendees receive a thank you email with a call to action about new products or other things Sophos would like to direct them to, as well as pictures, videos and other elements to continue the excitement of the event. If someone wasn't able to attend, they are invited to a virtual conference, where they can see videos or access PDFs via an event portal.