CMO Q&A: Qualcomm's Penny Baldwin on Marketing 5G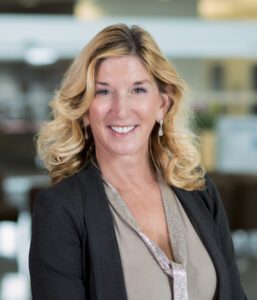 5G is the latest generation of mobile connectivity, and many technology brands are rushing to catch up. Chief Marketer recently chatted with Penny Baldwin, SVP and CMO with Qualcomm Technologies Inc. to discuss how the telecommunications equipment maker is leading the 5G charge.
Qualcomm—best known to many as the producer of the Snapdragon chips that power many mobile devices—has the challenge of connecting with a number of constituencies to preach the 5G message, including developers, handset manufacturers and technology influencers, as well as government officials and regulatory standards bodies around the world.
CHIEF MARKETER: For Qualcomm, is it a big marketing challenge to connect with all of these different audiences?
PENNY BALDWIN: Obviously, simpler is always better in the world of marketing, but those are the dynamics of our business, so we have to be concerned with all of our audiences. The biggest challenge is really driving comprehension and understanding of the role of our technology and the importance of our inventions. Our technology enables partners to compete globally without a substantial R&D investment [on their part]. There are economic impacts and business models as a consequence of our technologies, like video streaming, mobile GPS and airplane mode. Uber is a classic example of one which we didn't envision when we created mobile GPS, but they tapped into our patented business portfolio.
CM: 5G is a big business focus for Qualcomm. Is marketing around 5G primarily educationally driven, to explain why it is important?
BALDWIN: Bingo. You hit it on the head. One of our priorities is to drive 5G leadership around the world. Most people don't understand the role we play in working with standards bodies around the world to make transitions [in technology] possible. 5G is here and has launched with handsets in Europe, China and the US. The 5G ramp will be much faster than the 4G ramp, which was more sequential in nature. And it's not going to just be in the mobile industry—5G's promise and potential goes beyond mobile and will transform industries like manufacturing. A lot of facilities will go wireless, building private networks to enable wireless configurations and changing manufacturing [happens]. Retail will be transformed, with much crisper AR/VR experiences. It will enable AI in a much bigger and broader way.
CM: What are the business implications of 5G?
BALDWIN: There's a greater monetization potential beyond previous transitions. Because 5G enables people to connect with things and things to connect with things, that exponential explosion of connected devices will create a growth of rich data and that data needs to be harvested and processed. There will be AI capabilities housed in many connected devices, everything from phones, wearables and drones, to smart cameras and home security systems.  When you talk AT&T and Verizon are huge proponents of 5G because it expands the capacity of their networks so. For example, you won't have bottlenecks at stadiums. Today, you can't get texts out [at a live sporting event] because of capacity. Now, consumers will be able to live stream video in real time, even 8K videos.
---
You May Also Enjoy:
---
CM: What types of marketing content resonates with your audiences?
BALDWIN: We need to create understanding, and tell stories to show the role that our technology plays. The more tech [savvy] the audience, the deeper and richer the content becomes. It's all about use cases and thought leadership, and explaining how 5G will roll out, the economic impact and the number of jobs it will drive. As you talk to decision makers, you have to crisp up the storytelling and bring it up to a higher level, to help them understand the application.
CM: What content formats work best for you?
BALDWIN: For a technical audience, whitepapers and video work well. We do a lot of content marketing partnerships, such as the Wall Street Journal, to create compelling content that will be exposed broadly on their platforms and our own social media feeds. We also engage in brand campaigns at a higher level to explain what we do. There's a big role for digital marketing in the overall mix. It's a lot of different things.
CM: Is social a big way to connect with this audience for Qualcomm?
BALDWIN: If you look at the social landscape and the thought leaders who follow cellular technologies, those are folks we tap into. We want to make sure they are knowledgeable about our technology and what we do, so they can advocate on behalf of Qualcomm's innovations and services. They're a very influential for us, albeit limited in scope. There aren't millions of these people—there might be only 200 of them, but they have big followings, so the amplification is there.
CM: How do you gauge the ROI of your marketing efforts?
BALDWIN: There are both qualitative and quantitative metrics, depending on the discipline. There are times you get deeper data—on all the digital platforms, you get everything from exposure to open rates to view rates to viewing time rates to engagement levels. There's deeper analysis where the data is easily accessed. We also do rigorous global studies to rate the combined impact of our marketing, and we're closely involved with customers and partners, especially in the handset community, [to help] understand their sales data. We don't sell the end product, so we need to sit side by side with partners and monitor their sales positions, to see the data through their lens.