State Street Global, Grant Thornton, Hiscox Win B2 Awards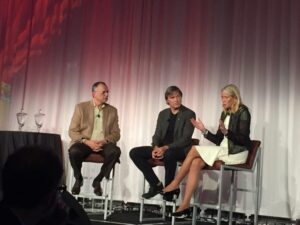 Campaigns featuring Fearless Girl, risk taking and the PGA helped top brands win big at the ANA's B2 Awards last night in Chicago.
Stephen Tisdalle, CMO of State Street Global Advisors, is the ANA's B2B individual marketer of the year. The company scored major buzz last year with its Fearless Girl statue—Apex Marketing Group estimates that between social, TV, online radio and print the statue generated almost $13 million in free publicity.
Audit and tax advisory firm Grant Thornton was named corporate marketer of the year (large/$1 billion and over). As part of its ongoing "Status Go" campaign, the company is leveraging a partnership with the PGA and pro golfer Rickie Fowler.
In the small/under $1 billion category, liability insurance marketer Hiscox received corporate marketer of the year honors. Last year, Hiscox rolled out the "I'mpossible" campaign, which focused on the positive side of taking risks.
Stein IAS was named agency of the year in the small/under $25 million category, while gyro received the trophy for large/over $25 million.
Christoph Becker, global CEO and CCO, gyro; Linda Boff, CMO and VP, learning and culture, GE; and Katherine Button Bell, senior VP and CMO, Emerson were named to the B2 Hall of Fame.
In a Q&A, Becker encouraged marketers to embrace emotion and feeling in marketing.
"Technology is helpful, but technology is not an idea. Technology is a tool," he said. "If you have a moment where you don't feel what you do, don't do it."
Marketers should not be afraid of "making B2B sexy," Becker said. "Be proud of what you do. You are rock stars."
Bell also embraced the idea of emotion, noting that technology can feel cold. "Remember when everyone was mailing out CDs? People just chucked them in the garbage," she says. "More humanity is needed. We need to have more surprises and keep it tight and smart."
She also encouraged marketers to trust their instincts. "Listen to that whisper of doubt. If you hear it, don't do it."
For a complete list of 2018 B2 Award winners, click here.