Hey Sexy—Words B2B Marketers Don't Often Hear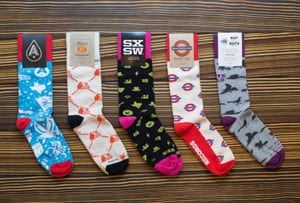 B2B isn't often the first choice of young entrepreneurs looking to start a business. Let's face it: On the surface, getting a B2B enterprise off the ground just doesn't seem as exciting as a consumer start-up.
But many are coming around to the allure of B2B after stumbling in their attempts to get a B2C venture off the ground. The March issue of Entrepreneur details the road to success for several such companies, such as Sock Club.
Noah Lee and Dane Jensen founded the business as a consumer website, Sock of the Month Club. They were successful, but growth didn't happen as quickly as they'd like, and there's a lot of feet in the consumer sock game.
But they noticed that the B2B pond was a place they could dip their toes into, and it was a perfect fit. Companies were always looking for new branded merchandise they could give out at events, and a quick poll showed that event attendees would much prefer a funky pair of socks over yet another stress ball or logo mug that would gather dust on their desk.
And, there's more security in selling to corporations that often buy in bulk, Karen Dillon, former editor of the Harvard Business Review, told Entrepreneur writer Nancy Miller. "Businesses are less fickle in their decision-making. There's a price and a budget."
B2B and B2C marketers are driven by different factors. "B2C and B2B marketing have similar goals but we're communicating to two very distinct audiences," Tabara N'Diaye, sales and marketing manager, Cocktails in the City, said in a recent Chief Marketer article by Jennifer Hakim. "B2C marketing is more emotional and focuses on the benefits of the product whereas B2B marketing is more logical and focuses on the knowledge and return on investment."
Socks certainly seem like a logical choice for conference swag. Sure, pens are great, but they do a lousy job of keeping your feet warm.
Related Articles:
Top 10: February's Most Popular B2B Articles
B2B Lead Gen By the Numbers: Infographic
Relevant Content Helps Engineering360 Target Millennials