Relevant Content Helps Engineering360 Target Millennials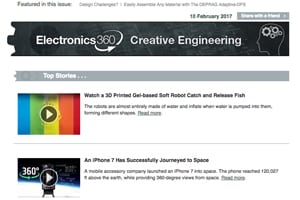 Millennials may be digital natives compared to their more mature counterparts. And engineers may be more analytical than their less technical brethren. But when it comes to content that connects with them, there's a common thread: make it relevant or don't bother.
"We seek to engage with millennials in the way that we engage with our overall audience," says Patrick Mahoney, president and CEO of IEEE GlobalSpec, which operates the Engineering360 portal. "Millennials don't rely as much on face to face interaction—they're more about speed and alacrity. That means content needs to have relevance and resonance."
About a third of the site's users are millennials. IEEE GlobalSpec's business model is based on creating advertising opportunities for manufacturers of components, and much opportunity lies in the small to medium sized sector. Many of these companies don't have marketing departments, so they reach out to GlobalSpec to help brand and sell their industrial offerings.
"The way we position and package our content has changed demonstrably," says Mahoney. "We push awareness, and manufacturers have become very savvy as well, taking to thought leadership, with content that might have little to do with a component or product, and be more about how to solve a problem."
Of course, which approach works best varies from market to market, he notes. Those in oil and gas might gravitate more towards thought leadership, while content about components might be more of interest to those in electrical contract manufacturing.
"A design engineer in paper and pulp is different from someone in oil and gas," Mahoney says. "We tailor ads and content to speak to different markets with a high degree of attention to detail."
Not surprisingly, video performs well with millennial engineers, with how-to clips being the most popular. The site's online forum CR4 gets many users posting questions about things like how to hook up different systems and components and videos can be very useful in helping people understand how to make connections.
Videos are created both in-house and with the help of manufacturers and advertisers, he notes. Videos are professionally done, often at the in-house lab, but engineers aren't looking for a lot of "extra schmaltz," he notes. They want to know how to get something done and like the focus to stay on the desired outcome.
Mobile is an important component in the strategy to reach engineers, no matter what their age. About a third of product searches are done on mobile, but purchasing tends to be done via desktop.
Email is a significant part of IEEE GlobalSpec's strategy. "The content has to be fresh," says Mahoney. "We're always focused on testing the content to see what resonates with our audience. If you want an email campaign to have a successful impact, the content must be relevant."
The site sees strong email engagement across the different industry segments, with millennials and otherwise.
In total, IEEE GlobalSpec has 1.34 million email newsletter subscribers and 7.2 million total subscriptions to over 70 different newsletters targeting a wide range of segments, broken down by topics like automation, design, facilities and electronics, as well as industry specific editions like aerospace and automotive. Average open rates range between 10-18%, with an average clickthrough rate of 11.42%. The largest newsletter, Specs & Techs, mails weekly to over one million subscribers.
ROI for the site is gauged both on advertising revenue and metrics such as opens and clickthroughs, as well as the duration of a visitor's stay on a page. "If you click on a link, that's one piece of information, but then how long you stay on a link is another."
Technical professional development association IEEE acquired GlobalSpec and Engineering360 last spring. Much of IEEE's work has been in the academic market and the acquisition helped diversify its industrial offerings in markets like oil and gas, electronics, chemicals and more, says Mahoney.
Related articles:
B2B Lead Gen By the Numbers: Infographic
Marketers' Most Wanted: Millennials
Marketing Automation Boosts Engagement for GM Nameplate