Brands on Fire: Banfield Pet Hospital Targets Pandemic Pet Owners With 'After Party' Video Series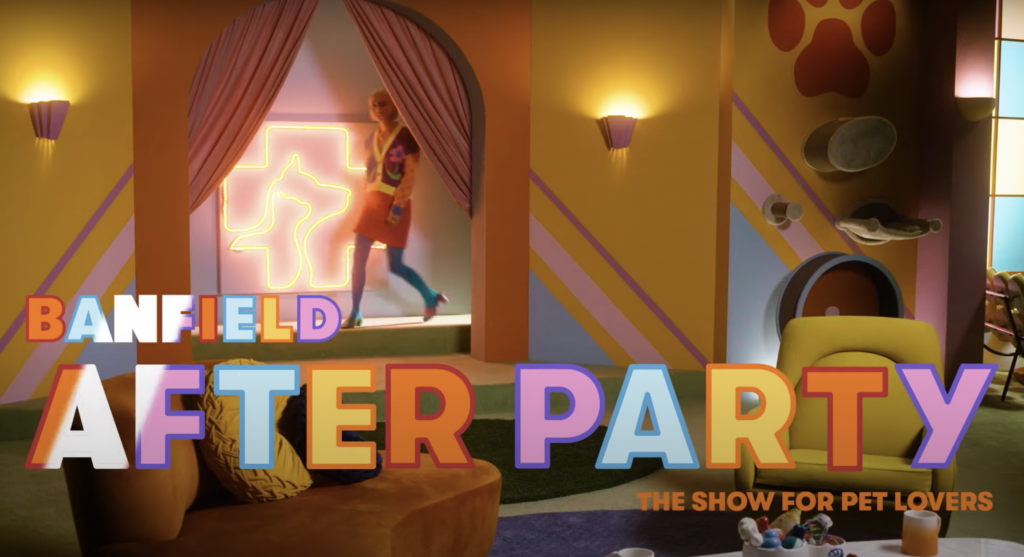 It may not come as a surprise that more than 23 million households got a new pet during the pandemic. We've all seen them: those first-time pet owners who seemed to be getting walked by their dogs rather than the other way around. What may be surprising, though, is that the vast majority were Gen Z and millennial owners. So, when it came to marketing Banfield Pet Hospital, the largest privately-owned veterinary practice in the U.S., the brand sought to reach the group on the social platforms they know and love.
Enter: the Banfield After Party, a digital, short-form video series made by and for pet lovers featuring guest influencers, artists and, of course, a collection of pets with extensive social media followings. The brand has seen a 400 percent increase in social followers thanks to the series and garnered 15 million impressions across Facebook and Instagram. "It was really a bonanza for pets. We were all stuck in our house, and the fellowship and love that pets provide was really needed," says the company's CMO, Lisa Stockmon. "It was a great time to tap into that energy in an entertaining way." We spoke with her about marketing the hospital during the pandemic, growing its Gen Z base, generating brand awareness and leaning into the company's relatability.
Chief Marketer: What was the inspiration behind the video series?
Lisa Stockmon, CMO, Banfield Pet Hospital: We wanted to reach out proactively and make sure that we were being relatable to our Gen Z and millennial owners. As we all know, videos of pets are often shared. So, it was tapping into all of that user-generated content and having fun with it. We're doing all the social channels—Instagram, Facebook, YouTube. It's hitting all the places where that consumer typically goes. And we are using our existing channels as well.
CM: How did you choose which pets to feature in the series?
LS: A lot of this was based on the popularity of some of the influencers that we used and the ones that had a successful following, or the ones that, quite frankly, we fell in love with. We've seen a lot of research about the animal-human bond, and we tried to find those that sparked some interest and were relatable. The love of pets has only grown during the pandemic, and that's what we do for a living, so we tapped into that energy. This is the work that we do at Banfield. It's mission-based. Everyone's motivated by the love of pets, but during the pandemic it's been especially meaningful.
CM: Since so there are so many more first-time pet owners, has your business changed at all during the pandemic?
LS: Absolutely. There's a really great stat: Over 23 million households got a new pet during the pandemic. And the pet population is led by Gen Z and millennial owners, with 80 percent of Gen Zers currently owning a pet. Of the people who adopted pets during COVID, 13 percent were first-time pet owners. It was really a bonanza for pets. We were all stuck in our house, and the fellowship and love that pets provide was really needed. So, it was a great time to tap into that energy in an entertaining way. And we had some success. Banfield After Party media drove over 50 million impressions among Gen Z and young millennials. We saw a 400 percent increase in the growth of our social followers since launching the After Party.
CM: Did you accomplish the desired marketing goals for the campaign?
LS: There was certainly a lot of enthusiasm behind it. When I think about what we were hoping to accomplish, we were able to grow our Gen Z follower base, generate brand awareness and brand trust, further amplify our campaign and marketing efforts during a short-term period and increase brand recall.
CM: We talked a bit about how your business has changed. How has that affected your marketing?
LS: We're leaning into the human-animal bond, and how best to leverage that relationship and support it. We are here for the health of your pet. And it's great for our customers to understand that we get you, that we're authentic. We love pets, too, and we want them to stay healthy. We want them to stay part of your family. If anything, it gave us an opportunity, like most marketers, to be relevant. What I love about pets is that this has allowed us to be further in your home. And now that entertainment value was amped up.
CM: When it comes to reaching and targeting Gen Z and millennial audiences, had you done this much before? How did you approach it strategically?
LS: This is an expansion of our existing efforts. We have to be where our customers are. When you look at the pet population, [the growth] is led by Gen Z and millennial owners. The strategy was to make sure that all our current and our potential customers know that we understand and care for your pet. That relationship, that bond, is very important. It's part of our long-term strategy, but the audiences and Gen Z are growing. The dollars are there. They're the folks who in the last five years have gotten new pets. So, we have a whole new segment that we want to make sure that we're serving.
CM: Switching gears a bit… What trends should marketers be focused on right now?
LS: I think the whole idea of digital transformation is over. Digital is how we communicate, and so it's not necessarily transformation. It is how you meet that customer where he or she is. The adoption of that isn't something that you can choose. Consumers have an immediacy now. They want to work from home. They want their food delivered while they're at home. And understanding that immediacy of the consumer is going to lead to some success. We've seen that at Banfield as well, which has to adapt to how we communicate with our pet parents, how we text with them, how we provide information to them through all of our digital channels.
CM: For all the aspiring CMOs out there, what qualities should a chief marketer have to be successful in the business world today?
LS: You have to be open minded. You have to be approachable, and you have to always remain strategic. One of the things I tell my team is that you have to get comfortable with being uncomfortable—and how do you welcome that? How do you begin to approach it with wonderment? There's been so much change in the last 20 years. It's about staying on top of the change that's going to come about in the next 20 years.