6 Ways to Remain Competitive with Millennial Marketers
Marketers who have been around for awhile—you know who you are—need to dissect and adopt strategies that are working for the new breed of Millennial marketer that views the industry—and their work—through a digitally native lens.
A recent survey breaks down how digitally native Millennials are rethinking legacy marketing tactics and widening the divide between the two and the previous generation of marketers. Here are five ways for legacy marketers to gain ground and remain competitive among Millennnial marketers: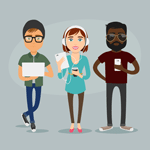 1. Don't try to sharpen dull tools Millennials are 85% more likely to invest in social media than print advertising. Nine out of 10 Millennials at small-to-medium sized businesses lead their marketing strategy with social media. As evidence, social media is treated as the core from which all other aspects are conceived and disseminated.
2. Drive brand awareness by generating and engaging in conversations Millennial marketers establish brand loyalty and improve customer experience by being readily available to react to consumer inquiries and comments through social posts and messages. However, if you're not available to answer promptly, prolonged response times can damage brand reputation.
3. Connect the dots Millennials build the customer experience as a clearly defined and unified journey. By understanding the importance of authentic messaging and formatted content, fit to specific channels, Millennial marketers are able to engage multiple consumer segments in their preferred digital realms. Through a mix of owned, earned, organic and paid media across Facebook, Instagram, Twitter, Snapchat and Google, Millennials create fluid conversations using a cocktail of mediums, generating a streamlined journey from brand awareness to purchase.
4. The need to know, now One of the great returns of a digital-first approach is the ability to easily measure success and see instant results. With traditional tactics such as print and television no such advantages are possible, leaving traditional marketers unfamiliar with essential tools and lacking immediate results, wasting budgets and time on ineffective media.
This capacity for instant feedback and ROI optimization has driven Millennials to adopt the "failing fast" approach. If something isn't working they investigate, take notes, iterate or move on. To return to previous advice, I suggest you learn to do the same.
5. Get out of the box Television is on the endangered list, but video is booming. Close to 0% of Millennials invest in TV advertising; which isn't surprising, seeing as Millennials are the "cord-cutting" generation and don't necessarily find cable television a worthy investment for themselves, let alone their marketing budgets.
6. Video is currently one of, if not the most, effective marketing mediums Eighty-five percent of Millennials currently use video in their marketing strategy and almost half (45%) dedicate more than a quarter of their budget to it. Video combines the flexibility and efficiency of performance marketing with social culture and the engagement of storytelling.
Used as a form of social conversation, video showcases personalization and creative iteration for Millennial marketers across platforms and audiences. They use it among other tools as a means of targeted engagement, not as a broad net thrown into the vast digital sea with hopes that it catches attention.
Millennials are fleeing the barren terrain of legacy marketing practices and leading the forge into a profitable, digital landscape where social media and video reign. For legacy marketers, this unfamiliar territory requires new framing, skills and tools, as well as evolving marketing tactics and strategies necessary to survive. Though it may appear a difficult landscape to tread, legacy marketers need to learn to take advantage of available technologies—and keep a close eye on those Millennial marketers.
Reid Genauer is the chief marketing officer of Magisto. 
Related article: