4 Data Points for an Agency New Business Plan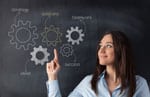 One of the high points for agencies in the RSW/US's Outlook Report, is that more marketers say they are contracting two or more agencies for the first time since 2009.
That's good news as agencies vie for new business.
The report also points out a number of data points that can be helpful in preparing a new agency business plan. This Hubspot blog extracts four of the most interesting points to consider.
17 Insights to Understand the State of Agencies