In the world of promotional marketing, campaigns don't reach a 19th birthday unless they've entered the popular mind as a major event, to be marked on the calendar and looked forward to. "Bud Bowl" may be in those ranks someday, as may Office Max's "Elf Yourself". But they won't be able to catch up with "Monopoly at McDonald's", the month-long campaign that launched its 19th consecutive year of execution this week.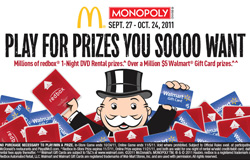 This latest iteration of the game, designed and executed with long-time partner agency The Marketing Store, builds on lessons learned since about 2007: integrating in-store game play with online "second win" chances, more numerous winning game pieces, and a broad mix of food- and non-food prizes.
"We found a few years ago that [in September/ October] customers were starting to blog and say, 'Hey, it's Monopoly season at McDonald's'," says Douglas Freeland, director of marketing for McDonald's U.S. and the brand's project lead for the promotion for the past six years. "That let us know that we were on to something, and that the campaign had a lot of potential in terms of the online and social media space."
The in-store peel-off game is back, of course, and the number of winning game pieces included on menu items has been upped to 125 million for the month. That reportedly brings the odds of winning something from in-store play to 1 in 4, a message that serves as the centerpiece for TV spots from agency DDB promoting the game using celebrities such as LeBron James and golf champ Michelle Wie.
As they have since 2008, customers can also play an online version of the Monopoly at McDonald's game by signing up at www.PlayatMcD.com and downloading a version of the Monopoly board. Players who enter the game codes that let them collect all properties in a color group, or all four railroad pieces, can win prizes online.
The in-store game will run through Oct. 24 in the brand's nearly 14,000 U.S. restaurants, as well as its outlets in Canada, Guam and Saipan; the online version will be available through Nov. 5.
Food prizes in this year's promotion include a mix of new menu items and popular favorites, including large fries, medium fountain drinks, fruit and maple oatmeal, medium and large McCafe cold drinks, hash browns, sausage mcMuffins with egg, and 10- or 20-piece orders of Chicken McNuggets.
Players can also win cash prizes ranging from $50 to $1 million, or promotional partner prizes including free Redbox movie rentals, $5 or $5,000 Walmart gift cards, sports fan dream trips courtesy of EA Sports, point bundles from MyCokeRewards, or a Caribbean vacation at Beaches Resorts.
This year online players can also interact with the Web site in an online Monopoly-themed game called "Hit the Hat". Once they've entered their game piece access code and claimed their board space, they can opt to let Mr. Monopoly, the top-hatted icon of the Hasbro game, toss their virtual "card' into his hat. Players choose one of three throwing styles. If the card makes it into the hat—a random factor in the game– the player can instantly win cash, EA Sports video games, a $1,000 Walmart gift card, a Beaches trip or other prizes.
Finally, each game code entered into the online game gets the player an entry into a sweepstakes for a Nissan Z Coupe. Completing five online plays gets an additional entry into that sweepstakes, which will run through Nov. 5.
"One of the things we've learned over the last few years from our customers is that they love the big million-dollar prize, the fantasy prizes, the sports car, the family vacations," says Freeland. "But we balance those out with lower-level prizes that are still customer favorites. For example, we know our customers love winning our food prizes."
As in the last few years, Monopoly at McDonald's will also include social media elements, with a Facebook page where customers can share news of their Monopoly wins, use the "Like" button on their favorite Monopoly prizes, or send reminder postcards to their social graph.
Fans who follow @McDonalds on Twitter and track conversations with the #McDMonoply hashtag can learn about the game, get notified when prizes are won, and enter special Twitter-based prize promotions from partners like Redbox and SpaWish.
"People like to talk about what they've won," says Ursula Ostrom, vice president of promotional operations at The Marketing Store. "One of the easy things we added is that after you play the online game, you can hit a Facebook or Twitter icon and share what just happened with your friends. Then other people will jump on that bandwagon and talk about it as well.
Also as in recent past years, McDonald's and The Marketing Store primed the pump before the Sept. 27 Monopoly launch by giving out free game codes on in-store packaging. "Packaging is our best advertising for getting those access codes out there," Ostrom says. "But we also use our prize partners judiciously. We have a special unique code that a partner like MyCokeRewards will offer to their participants to enter into the game. We try to link other free codes directly with partners, so that we're getting as much reach as we can to get people excited about the online game."
The classic collect-and-instant-win experience of the in-store game is the most critical part of the promotion, Ostrom says. But the online component provides a nice element of continuing engagement with the campaign and the brand and has in fact seen increased involvement year-over-year in the online version of the game.
"We've found that the online player seems to be a bit more fervent in their participation," says Freeland. "So to keep the promotion and the brand relevant to those people, the online component is very important."
In past years McDonald's and The marketing Store have also enabled mobile players to take part in the game, first by offering a text-to-win portion of the game and then by developing a smartphone app. This year, with Web access via mobile so pervasive, the pair simply concentrated on making sure that the PlayatMcD.com Web site was optimized to be viewed over most mobile phones.
"Monopoly at McDonald's" has in the past won accolades for both the brand and the agency, including a 2010 Interactive Marketing Award and a place as a 2009 Pro Awards finalist.