Speculation Abounds Over Return of Apple Rainbow Logo
Apple has filed a new trademark application for its classic rainbow-colored logo prompting widespread speculation about what exactly it will be used for.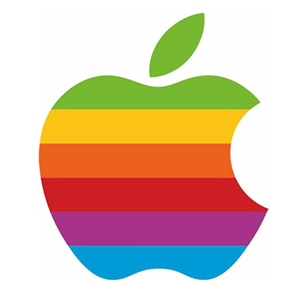 Apple does sell some apparel with the rainbow logo, which fans can pay upwards of hundreds of dollars to get. Even though the language in the patent suggests the logo may be used for headgear, like hats and caps, there is plenty of speculation as to other possible uses. iFans, among many others opining on the subject, have hope that the retro logo will begin to appear on new Apple electronic products or elsewhere, encouraged by the fact that teasers of color began appearing on promos for the iPhone X.
The multicolored logo, designed by Rob Janoff, was used from 1977 to 1999, when it was replaced with the single-color version—part of a company-wide overhaul by Steve Jobs.
In the December trademark application the description of the mark in the filing is of "an apple with a bite removed, with a detached leaf in green, and the apple divided into horizontal colored segments of the following colors (from top to bottom): green, yellow, orange, red, violet and blue." The idea was to show off the fancy colors the Apple II computer could produce.
"Vintage merchandise featuring the logo is hard to come by, with even t-shirts emblazoned with the the rainbow apple sell for hundreds of dollars. However, now that Apple is bringing it back … well you can still expect to shell out a ton of money for but at least it will be brand new," the Blast reported.
Related article: