Personalization Adds Bling to Stella & Dot's Conversion Rates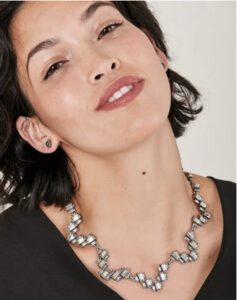 Website personalization is helping Stella & Dot boost online conversions by 52 percent.
The accessory and apparel marketer has three core B2B and B2C constituencies to cater to with its marketing, says Meera Bhatia, COO. The company has a network of stylists around the country who sign up to represent the brand—for them, Stella & Dot provides a customized version of the website, along with backend tools such as apps to help support their prospecting and selling. Then, there are the end-customers, typically women in their late 20s and 30s, who have an interest in fashion. Finally, there are the hostesses; these uber-fans love the brand so much they host parties in their homes to earn rewards.
Despite the brand and buzz-building excitement of the in-person house parties, about 70 percent of the San Bruno, CA-based brands revenue is generated online, notes Bhatia. The parties typically have an online component, with sales often happening on the website both before and after the show.
The underlying goal of all the company's marketing efforts is to support the stylists, she says. "She's doing marketing on our behalf, so we want to set her up to be successful. Our marketing budget goes to helping empower stylists."
Different segments of the brand's audience use the website in different ways. While a customer or hostess might just visit to shop for herself or a friend or family member, the stylist utilizes it as more of a sales enablement tool, to make recommendations for her customers, and a back office portal, to manage her sales.
---
You May Also Enjoy:
---
The majority of the traffic to Stelladot.com goes to the stylist-customized versions of the site, generated by stylists who are sharing the link with their audience. Paid search and paid social, particularly on Instagram, is also used to drive traffic.
A major challenge for website conversion was presenting relevant offers, notes Bhatia. Customers often come to the website after an interaction with a stylist, and then see a plethora of options. "We need to put the right offer in front of people," she says.
The company began working with Intellimize about two years ago, to automate its personalization efforts. It had been doing A/B testing, but wanted to increase the scale and scope of what it was offering with machine learning.
"We had these three segments but didn't have the ability to talk to them separately," says Bhatia. "Knowing someone is a hostess [means we should speak to them] in a slightly different tone versus a customer who hasn't shopped with us before."
Personalization can have the most direct impact the further down the funnel you go, she notes. "When you move up the funnel to branding pages, there are very different metrics [to consider], like bounce rate. It feels more long-tail—we get results there as well, but there isn't as clear an impact on revenue."
Revenue was the main metric the company considered as it first evaluated the success of its personalization efforts. Now, it is adding engagement metrics, bounce rates and clickthroughs into the mix.
Stella & Dot found that more emotional language in the shopping cart—such as adding encouragement like "You got it girl!" or "This is going to look great on you"—was driving lift.
"It makes you realize how important the words you use can be," says Bhatia. "The scale of that kind of impact can be surprising."