Exclusive Discount Helps Fathead Connect With Military Families
Molly McLeod, marketing project manager at graphic wall decal marketer Fathead, shares how her brand created a successful targeted discount campaign to the military community that increased engagement with this segment by 700%.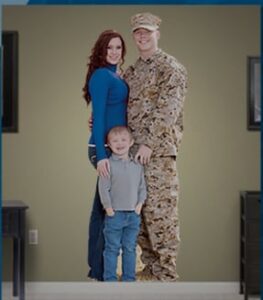 The military community is a very important segment for Fathead. It's a growing, evergreen market that fits well with our product and we wanted to offer a sweepstakes and exclusive discount to members of the U.S. military and their families.
Fathead launched the monthly "Salute to Service Sweepstakes," inviting active military members and their families to sign up for the chance to win one of five custom decals. This raised awareness about Fathead's commitment to military members, which we built upon by debuting an everyday 20% military discount that was later increased to 25%.
Of course, Fathead had the same concerns as other companies about offering exclusive discounts. We wanted the entire military community to hear about the discount and the sweepstakes, but we didn't want the offer to go truly viral, for fear of non-military customers who didn't qualify trying to claim the discount. This would devalue the discount because we truly wanted to do something special for those who have served.
The company partnered with SheerID to use their document review process and verify whether a customer qualified for the military discount. This allowed Fathead to ask for secondary information to prove affiliation for military spouses and anyone else who cannot be verified instantly. We've found that people who are indeed eligible are willing to provide necessary information to qualify for the discount.
The everyday discount has resulted in a 700% increase in military engagement for Fathead;
70% of verified military members are customers. We also saw a 60% increase in unique visitors to our military landing page.
Once we felt confident that the military community was responding to the discount and the SheerID technology was preventing fraudulent use, we added a link from our homepage to the military landing page. When we gave added exposure to the offer, unique visitors to the military landing page increased up to 140%.
Related Stories:
Next Thermostats Turn Old Loyalty Mechanics New Again
Patron Tequlia Fights Authenticity Challenge
Data Helps Kraft Cook Up a Segmented Content Strategy
Plum Organics Launches #ParentingUnfiltered