The Changing Role of the Executive Creative Director: Q&A
The role of executive creative director has taken many twists and turns over the last few years: Technology, Millennial team members, data, data and more data.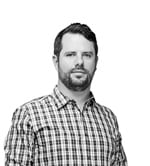 Matt Rand is the Executive Creative Director at integrated agency Archer Malmo in Austin, TX, which just acquired digital shop Tocquigny. He is responsible for all creative initiatives at the agency, and takes on the role of lead visionary for new and existing business, relying on his 15 years of creative experience to service and guide the agency's clients. He chats with Chief Marketer about the changes in the ECD role.
CHIEF MARKETER: How has the role of creative director changed over the last few years?
RAND: The role has evolved quite a bit, but part of that evolution depends on the size of the agency. Mostly, the evolution that I have seen has been technological and generational. You hear this all the time, but Millennials are different. They expect more and I think know more, so the days of being the domineering creative director with a team cowering before you are long gone.
CM: How do you deal with the differences?
RAND: Millennials crave constant feedback. About two years ago I set up monthly one-on-one's with each team member, more because I believe yearly reviews are not overly productive or useful. I'd rather meet with staffers regularly so there are no surprises at the end of the year, or along their career path, for that matter. What I have found interesting, and surprising is how much they miss those meetings when I have to reschedule. I learned that they really wanted regular one-on-one's all along but didn't know what to ask for and now, really need them. That's the generational aspect.
CM: What about technologically?
RAND: Technologically, it's still coaching and keeping the team accountable for work quality, but at a more rapidly evolving rate. Our job is to keep clients current, but more importantly keep them relevant. The work we do has to fit in or make waves on so many more levels because there are so many more mediums. A creative director today has to know emerging technology, how to interpret data, what's trending in social spaces and even what new social spaces are trending. It's a lot, but it's exciting.
CM: How is the internal creative team built compared to two-five years ago?
RAND: For the teams I've worked with it's having less people to do more and hiring accordingly. I personally put so much more rigor and emphasis into getting the right talent in house. It's not to have people work more necessarily, either. I want people on my team that are multi-faceted, nimble and strategic. Innovative autonomous thinkers that can take that raw lump of clay and sculpt without being told.
CM: What would you say is your biggest challenge?
RAND: After all that? Keeping up, and juggling the roles of coach, mentor and therapist.
CM: What impact does technology have on the creative process?
RAND: The good ideas that are brilliant at utilizing technology don't seem like marketing or advertising anymore. The well-orchestrated PR from the brilliant idea takes care of that. We're born creative thinkers and technology is allowing us to execute differently. On top of that, the amount of data we can get both for and from those ideas makes the idea better and more efficient.
CM: Which technologies are most impacting the creative process and why?
RAND: Data. We have so much of it. The ability to interpret it well can be a huge win if you have those resources. If you don't, it's a huge loss. I put a lot more pressure, on both myself, and the team to look at data in creative ways. For instance, a large data set might tell you how the masses are thinking and it's easy to craft a campaign around what the data is telling you the masses think. But what can make a campaign really special is looking at pockets, small communities within the larger data set that might feel something outside of what the group-think is. When you talk to those small communities the message to them resonates so much stronger. They feel like they're being listened to and that's exactly what people expect out of their brands today—that they're being listened to. Brands should be listening, as consumers are literally paying their bills.
CM: What are the top three challenges facing the creative team today?
RAND: Getting a clear and succinct creative brief, selling the new and sometimes untested idea and keeping our clients as informed as we are. These are all shades of one another to a degree and very symbiotic. We have to keep our clients top of mind in the eyes of the world. However, where we are in business, society—you name it—"cut and dry" is a luxury. We're in a world of nuance, subtlety and precision. That means distilling a problem can be more laborious and compartmentalized, which means a short and sweet creative brief can be harder to create.
CM: Can you explain. In what ways?
RAND: When the brief is delivered to the team, it often can lead to ideas that are new, amazing and well informed with tons of data to back it up BUT when it's time to sell it can be so foreign to the other side of the table. That side has different goals and objectives in their day-to-day. They're doing other stuff. We're one ball that they're juggling. They relegate staying ahead of the curve to us, but it means we have to bring them up to speed in the fraction of the time that we've had. It's a lot to absorb. Getting clients comfortable with something that hasn't been done before is very involved and requires more out of the team—out of the agency in general.
CM: What advice do you have for others working toward your position?
RAND: Think big and execute in the details. Coming up with a big idea is no different than setting up a long train of dominos, except with dominos you can see what you're setting up. With an idea you have to visualize how each piece of your idea impacts the next from conception to completion and THEN you have to execute it. Having that ability will set you apart. Tossing an idea grenade is easy and it sucks.
CM: What is the most important lesson you have learned in your career to date?
RAND: Listen first, talk later. We're problem solvers. Let the problem reveal itself. It's often much deeper and more fun to solve than the initial ask would lead you to believe.
CM: What keeps you up at night?
RAND: I really want to answer this with something non-work related, like why Richard Hendricks, the CEO of Pied Piper from Silicon Valley on HBO, can't catch a break. But upon serious reflection, I'm a builder. It doesn't matter the idea either. I've built something in my head 200 different ways over and over before I execute. It could be plans for a new coffee table or how to use an Oculus for a client that doesn't seem like marketing garbage. I wake up at about 3 or 4 am and stare at the ceiling . . . building and building. I'm grateful that's what keeps me up. I love building.