CMO Pressure Forces Dramatic Agency Transformation in 2020
CMOs are putting the pressure on agencies for higher performing campaigns and experiences and the result is that agencies will need to transform.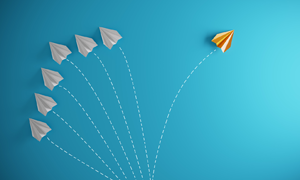 "In 2020, agencies will either reassemble their process, workforce, and capability to amplify audiences, activate campaigns, and build experiences with results or find themselves falling further into irrelevance," a new report from Forrester has found.
The report found that a new generation of CMOs pressured to drive growth and disruptions through marketing will become the spark that ignites agencies to reorganize or retreat.
In the age of automated tools, AI and machine learning, new skill sets will be required within these shops. New agency leaders will emerge next year to take on these issues to create more value for CMOs.
"Growth has been a leading marketing priority for CMOs three years in a row. For most CMOs, the results haven't been there, and every agency is feeling the existential pressure of that reality," the report stated.
Agencies are predicted to disassemble outdated models and replace those with centralized structures and new capabilities strengthened by scaled data, technology and creativity.
Specifically the report, "Predictions 2020: Agencies," found that:
• Automation will reshape 80 percent of agency jobs by 2030. Those with skills in production, project management, account management, strategy and creative will see many of their responsibilities automated via workflow technologies, planning/activation platforms, and dynamic creative engines powered by automation.
---
Other articles you might enjoy:
---
• The creative process will absorb technology and new tools. Expect creative leaders of global creative agencies to drop the data dissonance and incorporate data-driven, tech-fueled approaches and platforms into the creative process and toolkit.
• New operations-focused leaders will begin centralizing agencies. In 2020, expect the agencies' media group holding companies to centralize their operations, technology, data and agencies. Scaling technology and data gives the media parents the tech and data equivalent of broadcast buying power. The goal is to corner the programmatic market with digital buying prowess, bringing clients advanced inventory at preferred rates. Agencies like Omnicom Media Group and Publicis Media will more actively consolidate their buying power to fend off the looming in-house threat.
• In-housing media grew to 29 percent this year, and by next year a third of in-house agencies will include media operations that control substantial portions of the paid media budget. Top advertisers like Bayer, Deutsche Telekom, P&G and Unilever have touted efficiencies since in-housing their digital media.
CMOs and their colleagues in the C-suite are asking themselves if they should do the same as their competitors
• Independents and midsize agencies will flourish beyond being specialists. In 2020, select independents and midsize agencies will satisfy brands' ever-increasing need for high-quality campaigns, content, and experiences. Paired with the right analytic and programmatic capability, these agencies will become the CMO's social, web and commerce content engine next year.