Gorillaz Fans Chat With Murdoc in Prison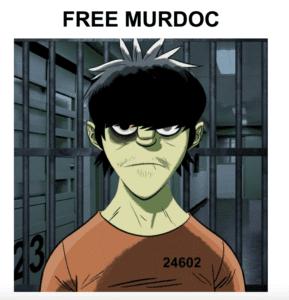 A virtual cry for help from imprisoned Gorillaz bassist Murdoc Niccal's via chatbot is the latest move in the band's promotional push for its upcoming album.
Gorillaz, an animated band, is the brainchild of Blur frontman Damon Albarn and artist Jamie Hewlett. As the world was surprised to discover when the band accepted a BRIT Award earlier this year, the character of Murdoc is behind bars.
Subscribers to the band's email list received an urgent email this week—"SOS! Murdoc Needs Your Help!"—urging them to connect with Murdoc by asking Alexa or other voice activated speakers to "Open Free Murdoc."
Fans were then asked to accept a collect call from HM Prison Wormwood Scrubs. Once he got on the line, fans had an expectedly off-color conversation with Murdoc, who told them he had been framed for smuggling ("I'm as clean as a nun's browser history!" he said.)
He told the fan he needed their help to get him out of this rathole, by helping him earn respect from his cellmates. How would that happen? Murdoc wanted to pick a fight with the biggest, meanest guy in the prison. He needed the fan to hack into the prison mainframe and send insulting messages, which would be played over the loudspeaker.
---
More on AI, Audio & Chatbots:
---
Murdoc told the fan to go over to the Gorillaz Facebook page to send a message. "You'll work it out from there," he assured them. On Messenger, fans are prompted to give several pieces of information, such as the name of a girl, an animal and the last snack they ate. These are then assembled together as part of a customized audio clip of a message that will to play over the prison loudspeakers.
Fans without a voice activated speaker like the Amazon Echo could chat with Murdoc via text on Skype, Facebook Messenger or KIK. On Twitter, fans are sharing stories of their chats with #FREEMURDOC.
The chatbot is the latest in a series of surprises from Gorillaz for fans. After last year's "Humanz," the band's first album in six years, fans weren't sure when they'd see new music from them again. On May 31, the band released the video for "Humility," featuring a guest appearance by Jack Black and introducing the band's new temporary bassist, Ace, a villain from "The Powerpuff Girls." It also announced the release of a new album, "The Now Now," on June 29 and an upcoming world tour.